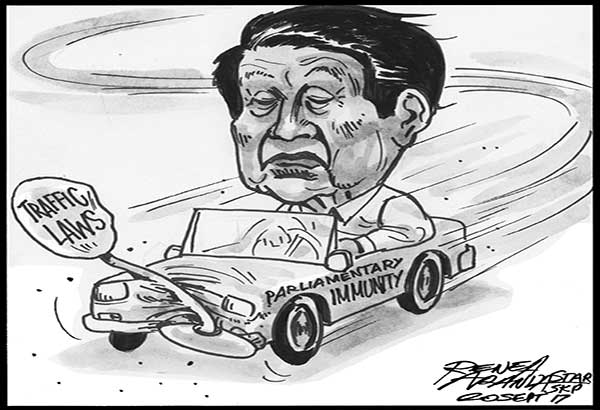 EDITORIAL - Above the law
(The Philippine Star) - September 19, 2017 - 4:00pm
Lawmakers craft laws so they should set the example in obeying the law. House Majority Leader Rodolfo Fariñas has a different idea: he wants to put lawmakers above the law and enjoy immunity from having their vehicles pulled over for traffic violations.
The law in fact provides immunity from arrest for minor infractions such as traffic violations for lawmakers while Congress is in session. As several senators pointed out yesterday, however, the privilege does not extend to lawmakers' chauffeurs. How many congressmen drive their own cars?
One of the most popular moves of Benigno Aquino III during his presidency was to ban the use of sirens or wangwang by everyone except police, military and firefighting vehicles, ambulances and similar conveyances. VIPs had to make do with using their security escorts to part traffic by blocking the paths of lesser mortals. Fariñas and several of his colleagues must be missing the pre-Aquino full VIP treatment.
People who spend up to six hours a day stuck in traffic are inevitably outraged. Fariñas' reminder the other day to the Metropolitan Manila Development Authority about lawmakers' exemption from traffic apprehensions fueled earlier calls to give members of Congress an annual salary of just P1,000 each. Taxpayers are paying for the upkeep of lawmakers' vehicle convoys and security escorts, apart from the millions in salaries and perks.
Some congressmen reportedly supported Fariñas' reminder because the doors of the House are now being closed to latecomers during session days – an average of three times a week.
If traffic is heavy, lawmakers might want to take public transportation to work. Not Uber or Grab, which lawmakers are trying to eradicate, thanks to a powerful lobby, but jeepneys, buses and the light railway services. They should hope the trains won't suffer a glitch and a fire won't break out under their seats. Riding a jeepney, they might finally realize the urgency of improving the mass transportation system.
The other option is that if there is a possibility of being late, lawmakers must leave early to ensure that they reach their destination on time.
It's what ordinary folks do in this country.