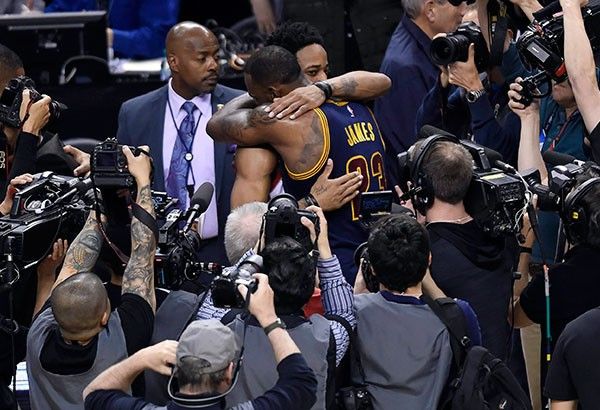 DeMar DeRozan hugs Cleveland's LeBron James (23) after the Cavaliers completed their sweep of the Raptors.
AP
Cavs charge to East finals, rout Raptors
(Associated Press) - May 9, 2017 - 12:00am
TORONTO – LeBron James and the Cavaliers are headed back to a familiar place after sweeping aside another overmatched opponent.
James scored 35 points, Kyrie Irving added 27 and Cleveland swept Toronto, beating the Raptors 109-102 on Sunday to give James his seventh consecutive trip to the Eastern Conference Finals.
"It's rewarding when you can advance," James said. "It's not just given to you, you have to go out and earn it. Once again I'm part of a team that's been able to advance to the Eastern Conference Finals. It's going to be my ninth time in 14 years. I'll take those numbers."
Kyle Korver scored 18 points to help the Cavaliers become the first team to win eight straight playoff games the year following a title, and the first team to win eight straight in consecutive postseasons.
"The fact that we play our best basketball in the postseason lets us know that we're up for the challenge," said James, who had nine rebounds and six assists.
In Houston, James Harden scored 28 points and Eric Gordon added 22 as the Rockets never trailed and used hot three-point shooting to pull away in the third quarter and beat the San Antonio Spurs, 125-104, to tie the Western conference semifinal at 2-2.
"I think our energy was just up no matter what," Harden said. "They went on runs. They cut the deficit down...but no matter, what we just stayed with it."
Game 5 is Tuesday night in San Antonio.
Jonathon Simmons had 17 points for the Spurs, and Kawhi Leonard and LaMarcus Aldridge added 16 apiece.
Houston made 22 3-pointers in a blowout win in Game 1, but had struggled from long-range in its two losses. The Rockets' three-point shooting, a hallmark of their success in the regular season, got back on track Sunday when they made 19 of 43, led by six from Gordon.
The Rockets led by 15 entering the fourth quarter and immediately padded the lead when Gordon made a 3-pointer to open the period. Simmons made a 3 on the other end before Gordon struck again with his sixth 3-pointer to leave the Rockets up 97-79.
In Washington, the Wizards forced turnover after another and made baskets every time down the floor, using a 26-0 third-quarter run that featured big-time contributions from John Wall, Bradley Beal, Markieff Morris and Otto Porter to beat the Boston Celtics, 121-102, and tie the second-round series at two gams apiece.
Game 5 is Wednesday night in Boston.
"We're capable of those type of runs every game," said Morris, who finished with 16 points and 10 rebounds. "Keep pressing them, go up 50 if we can. That's the mindset I felt like all of us had."
Washington never led by 50, but after trailing 53-48 early in the third it was 74-53 by the time Porter made a layup with five minutes left in the quarter. Wall had seven of his 27 points and three of his 12 assists during the run as the Celtics committed eight turnovers – including back-to-back shot-clock violations – and went 0 for 5.