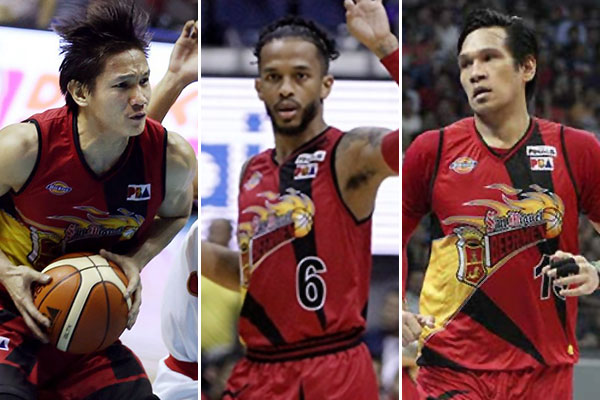 San Miguel Beer teammates Alex Cabagnot, Chris Ross and June Mar Fajardo
Beermen Cabagnot, Ross, Fajardo lead PBA BPC race
MANILA, Philippines – A wild rumble for the Best Player of the Conference among San Miguel Beer teammates Alex Cabagnot, Chris Ross and June Mar Fajardo serves as a curious side battle in the PBA Commissioner's Cup Finals.
Cabagnot and Ross emerged tied in the lead in the stats race through the semifinals with identical statistical points averages of 34.125, with Fajardo right next behind them with 33.067.
GlobalPort's Stanley Pringle came in fourth with 32.538 with TNT KaTropa's Jayson Castro rounding out the Magic Five with 32.467.
But it's virtually a battle among Cabagnot, Ross, Fajardo and Castro with Stanley's team GlobalPort failing to make it past the quarterfinals.
Balloting among the Commissioner's Office, the players and the sports media will also weigh in in the BPC derby. The winner will be announced before Game Four.
Going to the finals, Cabagnot averages 15.13 points, 6.56 rebounds, 5.06 assists and 1.19 steals, Ross norms 13.19 points, 5.19 rebounds, 8.06 assists, 2.94 steals, Fajardo has stats line of 15.6 points, 8.0 rebounds and 1.53 assists and Castro piles up 16.8 points, 6.4 assists and 3.87 rebounds an outing.