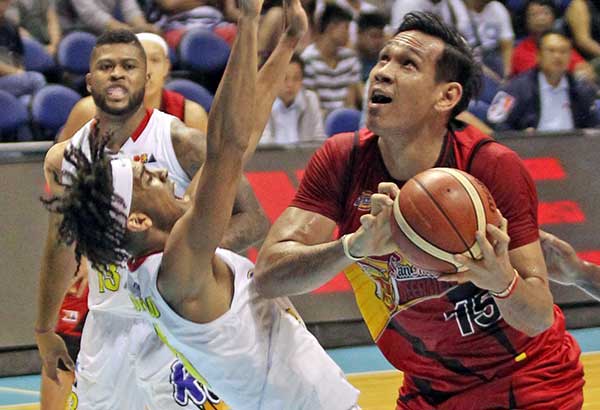 June Mar Fajardo of San Miguel Beer plants an elbow on the side of Gabe Norwood of Rain or Shine who tries to stop the SMB behemoth with a tough defense. The Beermen won, 103-96. JUN MENDOZA
Kings eye playoffs vs souped-up Elite
(The Philippine Star) - September 7, 2017 - 4:00pm
MANILA, Philippines — Barangay Ginebra tries to formalize its entry into the playoff stage of the PBA Governors Cup, gunning for a seventh straight win versus a Blackwater side with a beefed-up lineup at the MOA Arena in Pasay tonight.
Alaska Milk, fresh from a breakthrough victory versus grand slam-seeking San Miguel Beer, tangles with GlobalPort in the 4:15 p.m. curtain raiser before the Kings and the Elite clash at 7 p.m. in a duel between two teams with a fresh trade deal.
The Kings pursue a Top Four finish against the Blackwater team that now features former Ginebra players Chris Ellis and Dave Marcelo.
Ellis, however, is a doubtful starter, having been rushed to the hospital Tuesday after suffering full-body cramps in practice. The high-flying Fil-Am forward was to be discharged yesterday afternoon.
Still, the Elite could well be a dangerous foe with their own run since their acquisition of veteran PBA import Henry Walker.
"We have a tough weekend ahead of us, starting with a hot Blackwater team that has won four of five. We struggled to pull out a win in our last game, so we've got to pick it up going into this one," said Ginebra coach Tim Cone.
The Kings are scheduled to play tough back-to-back games as they're facing the San Miguel Beermen Sunday.
"All of us are battling for that all-important Top Four spot, so this weekend is crucial," said Cone.
"We will play to our very best to get a win and improve our chance of going into the playoffs," said Blackwater coach Leo Isaac.
The Elite are at eighth place at 4-4, winning four of their last five games since the arrival of Walker. They simply overpowered the Kia Picanto, 118-97, the last time out.
Meanwhile, the Kings nailed win No. 6 at the expense of the Star Hotshots, 105-101, Sunday.
Another win will formalize their entry to the playoff and get them closer to a Top Four finish that will reward them a twice-to-beat incentive in the quarters.
Needless to say, the Kings are determined to stretch their run versus the Elite.
And Cone sees an exciting game, including tough outings from Ellis and Marcelo.
"Chris will have a chance to really spread his wings and realize his full potential. His athleticism is just what Blackwater seemingly needs," said Cone.
"As for Dave, his role significantly changed with Greg Slaughter's return to the lineup, but with Blackwater, he should continue to get significant playing time," Cone also said.
NOTES: SMB coach Leo Austria is impressed with what he's seen so far with new import Terrence Watson. In a short scrimmage in his first practice with the team, Austria said Watson showed that he can shoot from around the perimeter and even from the three-point area, and he can defend in the wing and at the post. 'And he brought in positive vibes. He's always smiling and he wanted to jam with his teammates right away. He'll surely be of bigger help (than Terik Bridgeman),' said Austria. 'He has a good basketball IQ and he has a long reach, longer than that of Yancy (de Ocampo).'