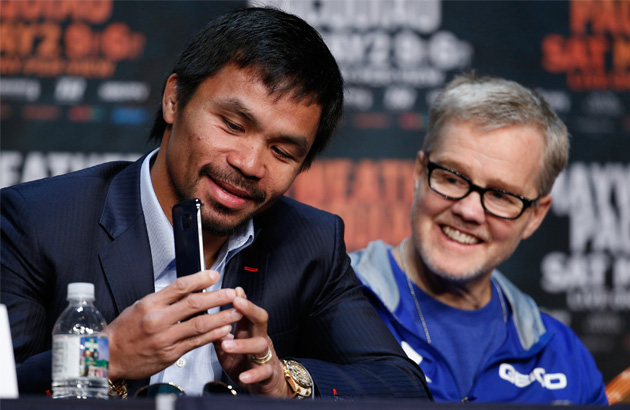 Manny Pacquiao and Freddie Roach | AP
Pacquiao should take Horn rematch then retire, says Roach
MANILA, Philippines – Despite an obvious decline in his skills, Manny Pacquiao is still good for one more fight, according to his longtime trainer Freddie Roach.
And that one last bout should come in the form of a rematch with Jeff Horn.
"I do want him to take the rematch with Jeff Horn," Roach recently told Sky Sports. "That would be, I think, the best fight for him at this point and it looks like that might happen next year, early next year."
Horn stunned Pacquiao in Brisbane, Australia last July 2 to become the WBO welterweight champion, and the Filipino icon is inclined to retake his old title.
Pacquiao reportedly wants to fight Horn in the Philippines.
Roach, meanwhile, prefers the Horn rematch over other fights reportedly offered to Pacquiao, including a showdown with the dangerous Terence Crawford.
"We've got other offers to fight Crawford and some other guys. He's close to the end yes, but he's not finished yet though," said Roach.
"He is still very dedicated, he works really hard and he puts 100 percent into training every day when we're getting ready for a fight," added the bespectacled trainer.
And once Pacquiao deals with Horn, that should be it for the Filipino icon's glorious boxing career.
"I would like to see him retire after that fight because being a senator and a professional boxer is way too much," Roach continued.
"It's two jobs that are very, very demanding. I would like to see Manny concentrate on being a great senator and then maybe a great president someday."