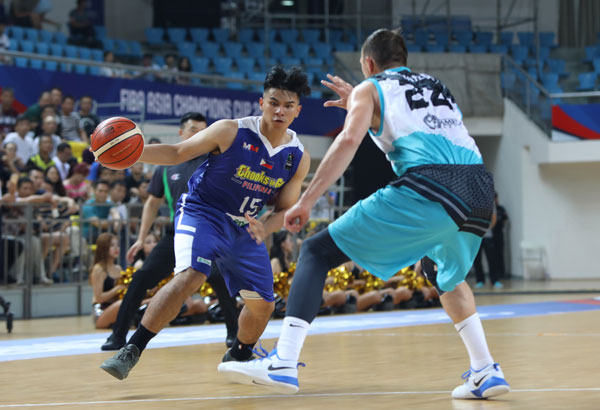 Kiefer Ravena of Chooks-to-Go Pilipinas in action against a Kazakh defender. | Photo from Bounty Sports
Chooks Pilipinas impresses in win over taller Kazakhs
MANILA, Philippines – Chooks-to-Go Pilipinas put up a proud performance on opening day of the 2017 FIBA Asia Champions Cup, cutting down to size a tall BC Astana team of Kazakhstan, 73-65, at the Chenzhou Sports Center in Chenzhou, China Friday night.
Isaiah Austin made good impression in his initial outing with Team Philippines, imposing his presence on defense and inspiring his teammates as they got to a triumphant start in the tourney despite limited preparation and a crippled lineup.
Successive blocks by Austin fired up the Filipinos, who fought back from an eight-point deficit at the half and built their own eight-point lead in the fourth before wrapping up the morale-boosting victory.
Chooks-to-Go Pilipinas goes for a second straight win versus Sarreyyet Ramallah of Lebanon at 4:45 p.m. Saturday.
Other opening-day winners were Taipei's Dacin Tigers over India's ONGC, 94-62; Mono Vampires of Thailand over Sarreyyet Ramallah, 102-100; and title holder China Kashgar over Shabab Al Ahli-Dubai, 96-43.
Former PBA import Mike Singletary and Fil-Am guard Jason Brickman propelled the Thais over the Lebanese.
Meanwhile, Austin joined forces with Kiefer Ravena, LA Revilla, Jett Manuel, Jeric Teng and Norbert Torres to get Team Philippines past the Kazakhs with their two imports in Justin Carter and Anthony Clemmons.
Austin, a Gilas naturalization prospect, came up with a towering performance with 18 rebounds, 17 points and six blocks.
Ravena top scored with 22 points, Manuel and Teng had their big shots, Torres ably filled in with Austin on the bench nursing fouls while Revilla struck with crucial plays down the stretch.
The Filipinos scored the first seven points of the contest but fell behind at 35-43 at the half as they wavered a bit as Austin got into foul-trouble situation in the second quarter.
But Chooks-to-Go came back strong in the third and hung tough all the way to the finish behind the combination of Austin, Ravena, Revilla and Teng.
With a shaky 65-63 lead, Revilla and Austin combined in a lethal 5-0 binge to put much pressure on the Kazakhs.
Then key defensive stops had the Filipinos sealing their victorious debut in the tourney.