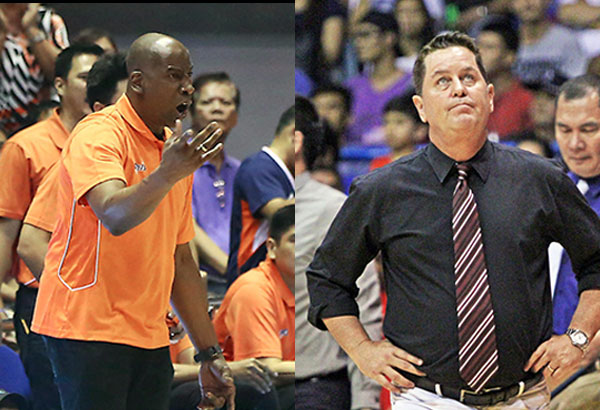 Bolts head coach Norman Black (left) and Kings mentor Tim Cone | File Image
Cone upset with Black after Game 3, but says sorry
MANILA, Philippines — When they said the Meralco-Ginebra Finals clash would be a chess game, boy they weren't kidding.
With two of the league's most decorated coaches going head-to-head, it's not hard to see why.
But that clash took another turn Wednesday night when the winningest coach in Ginebra's Tim Cone and fellow Grand Slam tactician Norman Black figured in a verbal joust with the game winding down and the result already in the bag.
With 38 ticks left in the game, the Bolts camp sued for a short huddle. For the duration of the timeout, an incensed Cone gave the Meralco bench a long stare.
The two mentors did not exchange the customary congratulatory gesture, but instead, traded verbal jabs. Black, during the presser revealed that Cone refused shaking his hand.
"He didn't shake my hand because he was mad about the last timeout, that's his problem not mine," the Meralco mentor said.
"I think everybody knows that Tim is the all-time leader in championships in the PBA. I've never in my life made any effort to tell him how to coach his team," he added.
"I don't need any help coaching mine," Black furthered.
Cone reportedly declined to give his post-game remarks, leaving the Big Dome ahead of the players.
But just this morning, Spin.ph's Karlo Sacamos reported that Cone expressed his regret over letting his emotions get the best of him.

"Yes, I was upset about the timeout that was called late in the game, but there is no one in the PBA that I respect more than Norman Black," Cone told Sacamos.
"I got caught up in the moment," he admitted.
Game Four of the Finals resumes on Friday, again at the Big Dome.