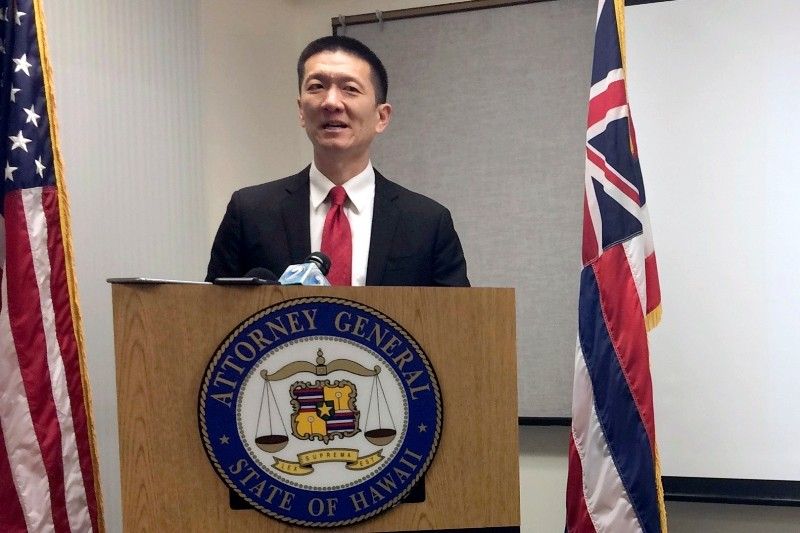 FILE - In this Feb. 3, 2017, file photo, Hawaii Attorney General Doug Chin speaks at a news conference in Honolulu announcing the state of Hawaii has filed a lawsuit challenging President Donald Trump's travel ban. Hawaii is planning to challenge Trump's revised travel ban. A motion filed in federal court on Tuesday, March 7, 2017, in Honolulu says the state wants to amend its existing lawsuit challenging Trump's previous order.
AP/Audrey McAvoy, File
US government says new travel ban 'substantially different'
(Associated Press) - March 15, 2017 - 8:55am
SEATTLE — Federal lawyers say President Donald Trump's revised travel ban is "substantially different" from the original and a judge shouldn't apply a previous restraining order to the new version.
Justice Department lawyers filed documents in U.S. District Court in Seattle on Tuesday, two days before the executive order is set to go into effect.
Washington and several other states are trying to block the revised ban affecting six mostly Muslim nations, saying it's unconstitutional and hurts universities and businesses.
Government lawyers say the new version removed provisions that "purportedly drew religious distinctions — erasing any doubt that national security, not religion, is the focus."
They made their filings with Judge James Robart, who blocked the original ban last month. Washington state wants him to apply that decision to the new order.