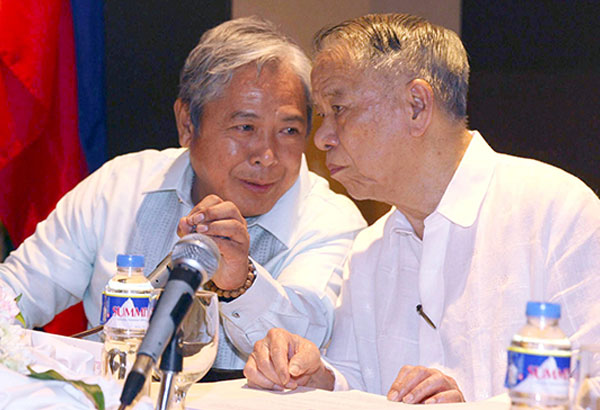 PAL president Jaime Bautista and PAL chairman Lucio Tan discuss an item during PAL Holding's annual stockholders' meeting held yesterday at Century Hotel in Manila. MIKE AMOROSO
PAL expects lower revenues this year
MANILA, Philippines - Philippine Airlines (PAL) expects lower revenue this year due to the declaration of martial law in Mindanao which could affect travel demand, as well as the suspension of flights to Abu Dhabi from Manila and to Los Angeles from Cebu.
In a press briefing following the flag carrier's annual stockholders' meeting yesterday, PAL president and chief operating officer Jaime Bautista said putting Mindanao under military rule may lead to a reduction in revenue this year.
"It will result in reduction in revenue," he said.
As for the value of the expected cut in revenue, Bautista said it is too early to give an estimate.
"We don't know how much more we will expect, but we will continue to evaluate based on existing forward bookings of PAL flights," he said.
PAL recorded a revenue of $2.45 billion in 2016.
PAL attributed the possible decline in revenue this year to trip cancellations following the declaration of martial law in Mindanao.
Earlier this week, PAL said it is allowing passengers to destinations such as Butuan, Cagayan de Oro, Cotabato, Dipolog, Davao, General Santos, Ozamiz, Surigao and Zamboanga from May 24 until July 30 to rebook, reroute or refund their tickets as military rule was imposed in Mindanao following clashes between military forces and the Maute group.
While PAL has not cancelled flights to Mindanao, Bautista said the carrier is looking at restructuring some of the flights to consider the proposed curfew.
Even as the situation in Mindanao is seen to have an impact on PAL's operations in the short-term, he said the carrier is hopeful a solution to the problem would lead to higher travel demand in the future.
"We want to look at it on a more positive basis that we will have this problem now but when peace and order stabilize in Mindanao, there would be more people traveling to Mindanao," he said.
Aside from the situation in Mindanao, PAL's move to suspend the Cebu-Los Angeles-Cebu service starting May 30, and flights to Abu Dhabi from Manila starting July 8, are also expected to drag down revenue.
"It will reduce revenue, but it will improve profitability of the airline," Bautista said as those are money-losing routes.
He said the Middle East market has become very competitive with mega carriers such as Emirates, Etihad Airways, Qatar Airways, Saudia, Gulf Air and Oman Air able to fly passengers not just in destinations there but to points outside of the region as well.
In the same event, Bautista said PAL expects to take delivery of seven new aircraft in the second half.
In particular, it expects five next generation Bombardier Q400 from July to November, and two Boeing 777-300 ER in December.