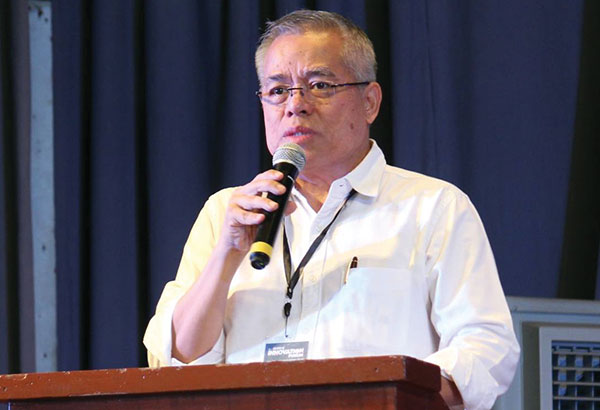 Trade Secretary Ramon Lopez said they relayed this request to representatives of the Office of the United States Trade Representative during a bilateral meeting over the weekend in Manila as part of the 49th ASEAN Economic Ministers Meeting. STAR/File
Footwear eyed for US GSP inclusion
(The Philippine Star) - September 11, 2017 - 4:00pm
MANILA, Philippines — The Philippines has asked the US to expand anew its Generalized System of Preferences (GSP) coverage to include footwear products following the recent inclusion of travel goods.
Trade Secretary Ramon Lopez said they relayed this request to representatives of the Office of the United States Trade Representative (USTR) during a bilateral meeting over the weekend in Manila as part of the 49th ASEAN Economic Ministers Meeting.
"We expressed that hopefully, they will enhance our GSP inclusion. Hopefully we can include footwear. So after the travel goods, we will try to work for our footwear goods to have better access to the US market," Lopez said.
He said a formal submission to the USTR is targeted within the year.
"If I will be asked, then I want to submit within the year, but we still have to talk to the industries," he said.
From the current average of 15 percent tariff, footwear could enter the US market duty free if it would be part of the US GSP coverage for the Philippines.
Undersecretary Ceferino Rodolfo said the Department of Trade and Industry has yet to come up with the figures on the potential economic impact of the inclusion of footwear in the US GSP, but he noted it is "one of the more important sectors for the US market."
"What's good here is that it's not only the Philippines advocating this but also the US buyers, noting that in the US, there's not much production activity going for footwear," he said.
Rodolfo said similar to the inclusion of travel goods, a proposed inclusion of footwear in the US GSP would also undergo several steps.
"If you would remember the process we've undertaken for travel goods, normally you will have a refinancing act for the GSP. The financing act for the GSP will be expiring this December so that will be the opportunity to include the authorization for the US President to also include footwear as among the items that will be eligible for the GSP," he said.
"After that, once it is included, the next battle will be issuance of an executive order from the President of the US to include that," Rodolfo added.
Last June, the USTR approved the Philippines' application to expand its current GSP coverage to include travel goods.
For the proposal with regards to the inclusion of footwear, Lopez expressed confidence it would have the same fate as travel goods.
"The US is supportive to some of the proposals of the Philippines, just like what happened to travel goods. They are now putting more weight on helping the Philippines which has long been a good ally and long-standing trade partner to them. Also, they see our historical relationship," Lopez said.