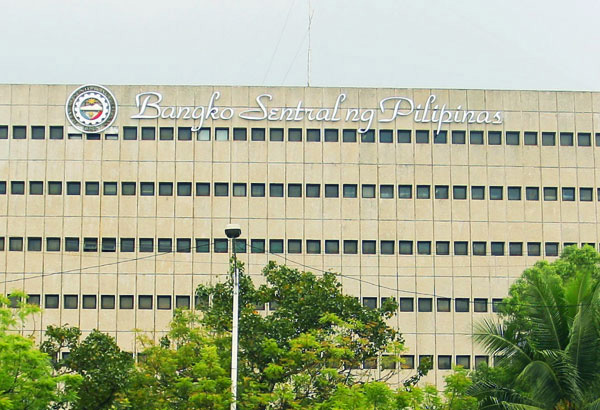 ANZ Bank and Nomura Securities Ltd. expect the Bangko Sentral ng Pilipinas to keep interest rates steady for the rest of the year despite upside risks to consumer prices. File
Steady BSP rates seen until year-end
MANILA, Philippines — ANZ Bank and Nomura Securities Ltd. expect the Bangko Sentral ng Pilipinas to keep interest rates steady for the rest of the year despite upside risks to consumer prices.
Eugenia Victorino, economist at ANZ Bank, said the BSP would likely keep benchmark rates untouched for the rest of the year amid the benign inflation environment.
"We are still of the view that interest rate tightening is warranted considering the intensifying imbalances in the economy. But our call for a tightening in the fourth quarter could be delayed if near-term inflation pressures stay contained," she said.
According to Victorino, inflation would remain anchored to the central bank's two to four percent target range through 2019 amid the upside risks to consumer prices.
"However, without more visibility on the tax reform package, inflation expectations are unlikely to shift up significantly," Victorino said.
Nomura senior economist Euben Paracuelles said the central bank decided to keep interest rates steady last Thursday as it deems the current policy settings as appropriate.
Paracuelles said the BSP also sees domestic demand as firm while inflation is seen within the two to four percent target set by the central bank at 3.2 percent from 2017 to 2019.
"All these factors are consistent with our forecast in which BSP leaves its policy rates unchanged this year. We forecast headline inflation of three percent in 2017, which implies a stable trajectory for the rest of the year," he said.
The economist pointed out BSP Governor Nestor Espenilla Jr. has a stronger bias to reduce the reserve requirement ratio (RRR) currently pegged at 20 percent and the highest in the region.
"Despite limited clues, we still do not rule out RRR cuts this year, and this view is supported by BSP's continued comfort with the inflation outlook," he said.
Nomura expects the central bank to raise interest rates by 50 basis points next year.
"For 2018, we still forecast two 25bp policy rate hikes by BSP, both in H2, premised on a more positive output gap, which is a significant inflation driver," he said.