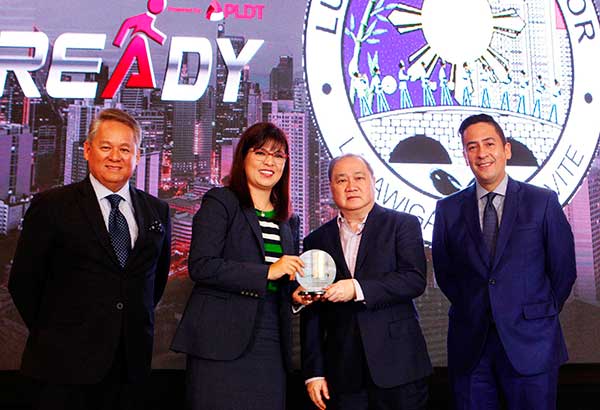 PLDT-SMART #READY: PLDT and Smart chairman and CEO Manuel V. Pangilinan (second rom right) hands over a plaque of recognition to Bacoor Mayor Lani Mercado-Revilla during the PLDT-Smart #READY media launch held yesterday at the Makati Diamond Residences. Also in photo are Eric Alberto (left) chief revenue officer and Jovy Hernandez senior vice president and head of enterprise. BERNARDO BATUIGAS
PLDT upbeat on Q3 results
MANILA, Philippines — PLDT Inc. is upbeat on third quarter income results as it expects its home and enterprise segments to deliver double-digit growth in revenue.
PLDT chairman and chief executive officer Manuel V. Pangilinan told reporters on the sidelines of the launch of the Smart City program for local government units (LGUs) yesterday the telco and digital services provider has a positive outlook on earnings for the third quarter.
"We expect double digit growth for both home and enterprise," he said when asked for a revenue outlook.
PLDT's recurring core income, which excludes gains from asset sales, earnings before interest, tax, depreciation and amortization adjustments and related tax adjustments, reached P11.9 billion in the first semester, up slightly from P11.8 billion in the same period last year.
Consolidated service revenue of PLDT reached P71.2 billion in the first half, down six percent year-on-year, but showed the downward trend of the topline for the past six quarters had been arrested.
The home and enterprise business units continued to drive growth in the first half as home revenue rose 12 percent year-on-year to P15.8 billion, while enterprise revenue increased 11 percent year-on-year to P16.8 billion.
PLDT has set a P21.5 billion recurring core income guidance for the year.
The firm, which seeks to cater to the digital needs of customers, has launched a new initiative under Smart City called #Ready to provide LGUs with digital communications and information management solutions to enable them to manage public safety, emergency and disaster situations more effectively.
Under #Ready, PLDT is working with the National Disaster Risk Reduction Management Council to help LGUs better respond during emergencies and disasters through the use of digital solutions.
"The #Ready initiative falls under Public Safety – the first main pillar of our Smart City campaign we are undertaking.
The other three major pillars are economic growth, citizen welfare and digital infrastructure. These initiatives will equip our LGUs with the digital tools to build a connected, resilient, and sustainable community and move towards becoming a future-ready Smart City," Pangilinan said.
Among the solutions available for LGUs under #Ready is PLDT Enterprise's SOS Dispatch which involves the use of ruggedized mobile communication units and automated short message system (SMS) broadcast service as a basic package.
The service can be expanded to include data center services, 911 hotlines, Smart SMS broadcast service, a command center, website development, dedicated fiber connectivity, and satellite phones.