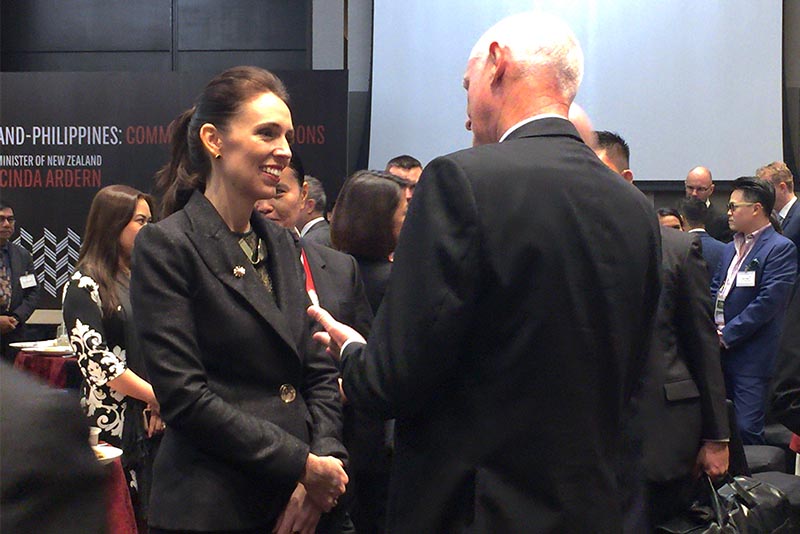 New Zealand Prime Minister Jacinda Ardern speaks with a guest at a breakfast meeting on Tuesday, Nov. 14, 2017 where she witnessed a signing of a tourism agreement, among others, between two corporations that would allow direct flights from Manila to Auckland. Ardern is in Manila for the East Asia Summit and related ASEAN meetings. Philstar.com
Deal on Philippines-New Zealand route inked before PM Ardern
MANILA, Philippines (Updated 1:17 p.m.) — Newly installed New Zealand Prime Minister Jacinda Ardern officiated on Tuesday the signing of a new cooperation agreement allowing nonstop direct flights from Manila to Auckland.
The 37-year-old Ardern, who is in Manila to attend the East Asia Summit, said the nonstop flights will inject NZD 13.6 million (P477 milllion) annually into the New Zealand economy.
She said the flights, which will commence in December, will also "further enable our people and our commercial links," citing the 23,000 visitors from the Philippines annually. The Philippines, meanwhile, welcomes around 29,000 visitors from New Zealand.
She also noted that the Filipino student population of more than 4,0000 in New Zealand is also among the largest.
Jaime Bautista, president of Philippine Airlines, signed the memorandum of understanding with Tourism New Zealand CEO Stephen England-Hall at a breakfast meeting.
Bautista said the high demand for direct flights to the south Pacific island nation warranted a shortened route.
The flights will reduce travel time from Manila to Auckland to 10 hours, while seat capacity is increased by 60 percent. The current route from the Philippines to New Zealand includes a stopover in Cairns, Australia and would normally take 12 hours.
The flag carrier will also utilize dual class, 254-seater Airbus A340s for the service.
The MNL-AKL service will operate thrice weekly on Wednesdays, Thursdays and Sundays starting on December 6.
Besides the tourism MOU, Ardern also witnessed the signing of an agreement allowing the sharing of data and technology between the two state weather bureaus. Metservice CEO Peter Lennox and PAGASA's Deputy Administrator Flaviana Hilario inked the agreement.
Decades of energy cooperation
Before Ardern, New Zealand Ministry of Foreign Affairs represented by New Zealand Ambassador to the Philippines Ambassador David Strachan and Philippine Energy Secretary Alfonso Cusi also renewed a geothermal energy agreement to push the development of renewable energy.
New Zealand Trade Commissioner in Manila, Hernando Banal, said New Zealand and the Philippines have a long history of cooperation and trade, especially in the geothermal sector, which started in the 1970s.
Banal noted that the Philippines is the world's second largest producer of geothermal energy, stemming from assistance from New Zealand.
The assistance includes building the capacity of Filipino geothermal engineers to share key underground technology.
"As such, it is not surprising that all eight of the geothermal sites in the Philippines today have a New Zealand footprint—they each either have a New Zealander working on-site or are operating with New Zealand technology," Banal said in a statement.