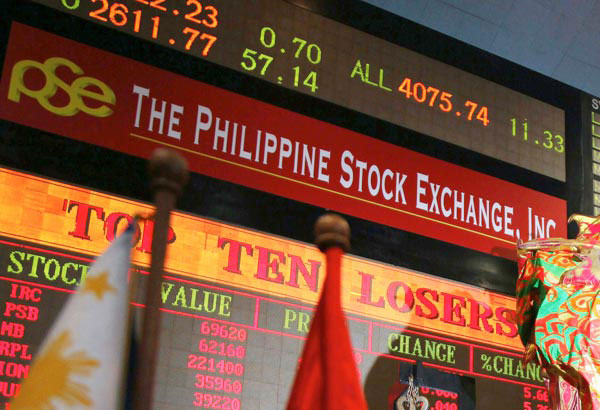 Chris Mangun, head of research of Eagle Equities, said the benchmark Philippine Stock Exchange index may try to reach a new high above the 8,600 mark once more. File
Further market consolidation seen this week
MANILA, Philippines — The stock market is expected to consolidate further this week following the release of the third quarter economic performance, analysts said.
Chris Mangun, head of research of Eagle Equities, said the benchmark Philippine Stock Exchange index may try to reach a new high above the 8,600 mark once more.
"We filled the gap at 8,300 this week as we tested support at the 8,200 area which is positive overall. Next week, I think we are going to test resistance at 8,400 and then at 8,500, possibly even testing 8,600 for a new high," Mangun said.
Last week, the PSEi was down for most of the week although it recovered after the government reported a third quarter economic performance of 6.9 percent, above the estimated consensus of 6.6 percent, but slightly below year ago figures of 7.1 percent.
"The PSEi was down for most of the week. We came all the way down to 8,206.44. On Friday we gained more than 100 points to close the week at 8,311.04. The reason for this is we have established that 8,200 is a strong support area and when it tested support, we saw it bounce back," Mangun said.
Trading value for the week, meanwhile, was average.
"We had very positive gross domestic product numbers come in and I think we are going to see a positive effect on the index in the following weeks. We are still in the consolidation stage as the market is preparing for a big move soon," he said.
Against this backdrop, the Philippine Stock Exchange registered a 45.9 percent increase in its net profit in the nine months to P707.35 million from P484.71 million a year ago.
The growth in profit was primarily due to a 119 percent surge in the company's other income to P371.35 million, boosted by revenue from the sale of PSE's Tektite office space, the PSE said in a statement.
Operating revenue increased 8.8 percent to P953.70 million from P876.23 million in the same period a year ago.
Of the amount, listing-related fees, the biggest component of operating revenue, went up 22 percent and trading-related fees were also higher by 7.8 percent.
Service fees from the Securities Clearing Corp. of the Philippines were marginally lower by 0.3 percent based on the slight decline in average daily trading volume.
"Trading activity is slightly higher this year and we hope to see some more follow-on offerings in the fourth quarter. Year-to-date, net foreign buying is over P50 billion with our main index, the PSEi, up around 20 percent. We would like to keep this momentum going to the next year by launching more products and making our market more attractive to both foreign and local investors," PSE president and chief executive officer Ramon Monzon said.