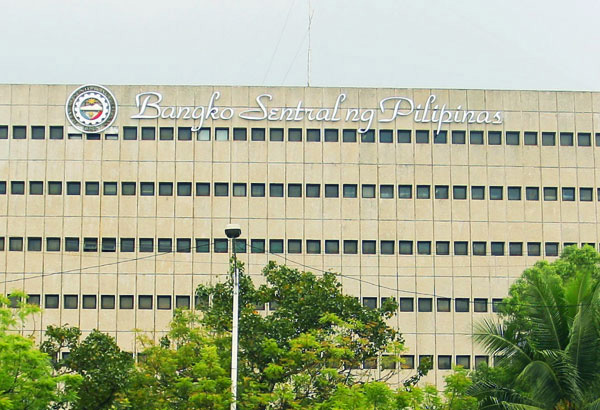 Last June, the BSP's Monetary Board lowered the GIR target this year to $80.5 billion – equivalent to 8.2 months import cover – from the previous $84.7 billion target equivalent to 8.8 months import cover. File
Forex holdings drop to 2-year low
MANILA, Philippines — The country's foreign exchange holdings continued to dwindle, hitting the lowest level in two years last month and falling below the full-year target of $80.5 billion, the Bangko Sentral ng Pilipinas (BSP) reported yesterday.
BSP officer-in-charge Chuchi Fonacier said the country's gross international reserves (GIR) reached $80.31 billion last month, down from the revised $80.42 billion in October.
This was the lowest level for the country's forex buffer since hitting $80.17 billion in November 2014.
"This was lower due mainly to outflows arising from payments made by the national government for its maturing foreign exchange obligations as well as revaluation adjustments on the gold holdings of the BSP resulting from the decrease in the price of gold in the international market," Fonacier said.
She added the national government's net foreign currency deposits, as well as earnings from the BSP's investments abroad cushioned the decline in the GIR level last month.
Despite the decline, she said the GIR could cover 8.4 months' worth of imports of goods and payments of service and primary income.
She added the forex buffer is equivalent to 5.4 times the country's short-term external debt based on original maturity and 3.7 times based on residual maturity.
Last June, the BSP's Monetary Board lowered the GIR target this year to $80.5 billion – equivalent to 8.2 months import cover – from the previous $84.7 billion target equivalent to 8.8 months import cover.
The GIR is the sum of all foreign exchange flowing into the country. The reserves act as a buffer to ensure the Philippines does not run out of foreign exchange to pay for imported goods and services, or maturing obligations in case of external shocks.
If it deems necessary, the BSP buys or sells dollars from the foreign exchange market to prevent sharp depreciation or appreciation of the peso.
The peso has emerged as the worst performing currency in Asia this year, depreciating 1.9 percent against the US dollar due to rising geopolitical tension between the US and North Korea, the normalization path taken by the US Federal Reserve, the country's expected current account (CA) deficit arising from strong imports, among others.
The BSP has allowed the moderate and gradual depreciation of the peso against the dollar as part of its mandate to smoothen the volatility in the foreign exchange market and to support the expanding economy.
The peso continues to trade within the 50 to $1 level after recovering from the 51 to $1 level last month.