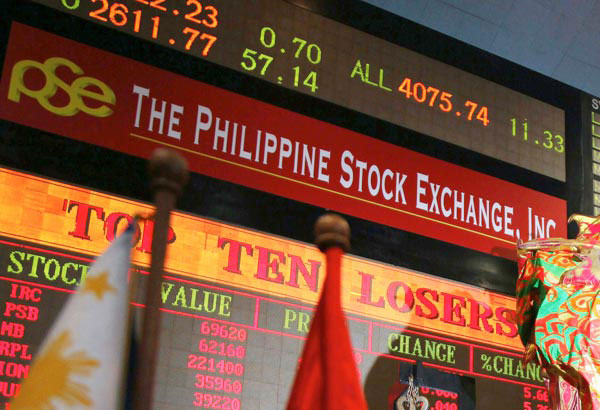 The Philippine Stock Exchange index (PSEi), the local stock market gauge, gained 45.31 points or 0.55 percent to finish at 8,174.93 while the broader All Shares index rose 19.19 points or 0.40 percent to end at 4,800.59. File
Stocks bounce back, build up momentum
MANILA, Philippines — Share prices recovered yesterday as investors went back to the market although there's still no telling if this would be sustained.
The Philippine Stock Exchange index (PSEi), the local stock market gauge, gained 45.31 points or 0.55 percent to finish at 8,174.93 while the broader All Shares index rose 19.19 points or 0.40 percent to end at 4,800.59.
Most of the sectoral counters, except for the property index, closed in positive territory.
Traders said the index is trying to build a momentum toward the 8,200 support level.
Among the different counters, the mining and oil index gained 448.98 points or 3.99 percent, recovering after the initial slump when news of higher coal tax hounded the market.
However, the Department of Trade and Industry and several business groups voiced concerns on the proposed higher tax on coal, pushing the mining and oil index to recover.
Investors are still keeping a close watch on the final version of the coal tax and would have to assess its impact.
The Senate on Monday voted to increase excise tax on coal to as much as P300 per metric ton in 2020 from the current P10 per metric ton. The proposed increase will be gradual, or to P100 in 2018, P200 in 2019 and finally to P300 in 2020.
Shares of Semirara Mining & Power Corp. (SCC), the country's biggest coal producer and supplier to majority of power plants in the country, saw its share price recover to P38 per share, up 7.04 percent.
Total value turnover, meanwhile, reached P5.95 billion. Gainers, meanwhile, outpaced decliners albeit by a slight edge, 97 to 93, while 47 issues did not move.