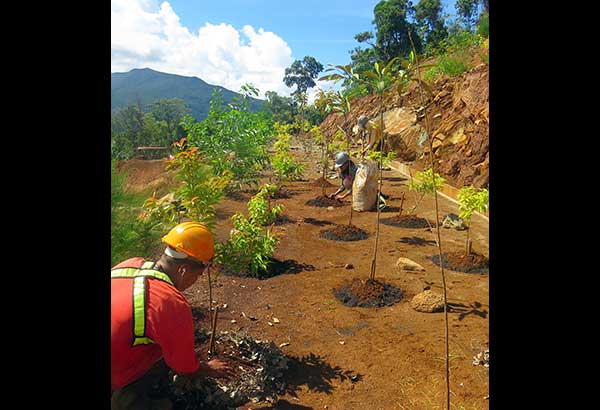 Nickel miner turns site into agro-forest
DINAGAT ISLANDS, SURIGAO DEL NORTE, Philippines — Misconceptions about mining are far too common but largest nickel miner Nickel Asia Corp. is proving that mining can be a positive influence that can catalyze broad, transparent and sustainable growth and socio-economic development.
Cagdianao Mining Corp. (CMC), a subsidiary of listed Nickel Asia Corp., started to develop agro-forestry within its mining tenement area to create value added and ensure additional income for the members of the community.
"Naturally, trees that grow here have minimal economic value in the mineralized area. Now, we are planning with the recommendations of the stakeholders to add value," CMC senior environmental head Phoebe Alac told The Star.
The company initially started on a small-scale: backyard farming and home-based agriculture.
"They now want to do large-based plantations. They want to invest heavily in short-term crops like cacao, coffee and other fruit-bearing trees," Alac said.
"We are still in the initiation phase for the large plantation scale. Several research and development studies are conducted for different species of agricultural plants," she added.
While the goal of doing agro-forestry in the mine site is a welcome idea especially as the government leans toward a more responsible mining industry, Alac said the company also had its fair share of challenges.
"We all the know that the soil here in this mineral-rich area is very different. So we try to develop techniques as part of our research on how to be efficient on the production of soil amendments and fertilizers," she said.
"We have our own technique on how to enrich the soil that is not that costly because if we are going to just add fertilizers, it will really be expensive for us. So one is we return the topsoil," Alac added.
CMC resident forester Jomer Tiamson said the company has started planting lanzones, durian, rambutan, dragon fruit and marang in several parts of the mine area.
"Once planted, it will take about three to five years before they bear depending on the environment and the amount of nutrients that they can get from the soil," he said.
CMC has so far planted 6,000 seedlings and it continues to do site preparation to complete 60,000 seedlings in every 10 hectares of mined out area.
"Our thrust is to rehabilitate and restore the old forest that we disturbed. We designed the mined out area into different zones to restore biodiversity and wildlife management," Alac said.
"We want to give back what we have gained from the minerals that we extracted," she added.
This year, the company has allocated P30 million for its environmental protection and enhancement (EPE) program which includes agro-forestry.
CMC is looking to beef up its budget for EPE by at least 10 percent next year.
The Cagdianao mine site is located in the municipality of Cagdianao, at the northeastern side of the province of Dinagat Islands. Its area of operations is within the Surigao Mineral Reservation.
Cagdianao has 14 barangays within its 249.48 square kilometer territory, including CMC's host and neighbors, Valencia, Boa, Legaspi and Bayanihan.
The Maraguing Watershed, one of the main sources of the mine site's domestic water supply and the Valencia Marine Protected Area are among the areas adopted by CMC for protection.
CMC is one of the three nickel-mining companies that continue to operate in Dinagat Islands following former Environment secretary Gina Lopez's crackdown on irresponsible mining.
There used to be 12 mining operations in Dinagat Islands, one of the country's mineral reservation areas.
The company's Mineral Production Sharing Agreement (MPSA) covers 697.05 hectares, 268.21 hectares of which represent the disturbed area.
CMC is confident it will be able to renew its MPSA, which will expire by 2022, and extend the mine life for another 25 years.
"For the renewal, we still have to go through the same process, conditionalities and requirements. We have to establish our amended environment protection performance and management plan. We have to identify where we could improve and it will cover all aspects from economic to social," Alac said.
Approximately 60 percent of the mined out area undergoing progressive rehabilitation has been completely reforested or planted with native and fruit-bearing trees.
Around 428.84 hectares of the company's mining tenement remain undisturbed and maintained with forest vegetation, of which 394 hectares are natural forest.
Nickel Asia acquired CMC in 1999 while commercial production and shipment of saprolite and limonite ore started in 2001.
The company's nickel deposit in the area is sufficient to sustain operations in the next 20 years.