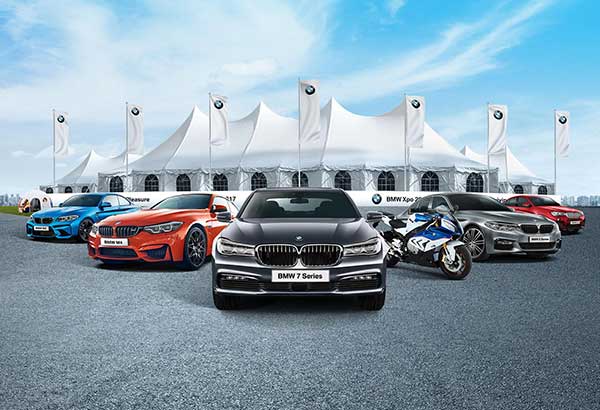 BMW Xpo 2017: Sheer driving pleasure exhibited and experienced
Sheer driving pleasure has always been the ultimate goal of BMW. Beyond the traditional ways of bringing cars to people thru retail and distribution, BMW once again demonstrates its passion for creating unparalleled experiences.
This week, Asian Carmakers Corporation (ACC), the official importer and distributor of BMW in the Philippines, will be hosting the BMW Xpo 2017 from Sept. 15 to 17 at the BMW Pavilion, 9th Ave. corner 30th St., Bonfiacio Global City (BGC). The public event will be open to adults and children alike.
Under the theme "Experience Sheer Driving Pleasure," this year's BMW Xpo will exhibit its segment-leading vehicles and involve activities that develop a better understanding of what lies at the heart of the BMW brand—"Joy". Three exhibitions will feature BMW's core values that deliver the brand's commitment to bring joy in every aspect of mobility: Visionary, Precious, and Thrilling.
Leading the Visionary exhibit is the new 5-Series, BMW's most sought-after business sedan. Other featured vehicles will represent the brand's groundbreaking concepts for the mobility of tomorrow along with a fascinating augmented reality experience with the Vision Next 100 Concept Car and BMW 5 Series through the BMW Vision Gate.
Representing the Precious exhibit are BMW's most luxurious pieces such as the BMW 7 Series, displayed along with the newest collection of BMW Lifestyle. Curated modern apparel and luxury accessories will also be presented by Hugo Boss. This makes Xpo 2017 a perfect experience even for non-drivers and families. Young, underaged BMW fans can take part in the Junior Drivers' Course and Kiddie Dome with arts and crafts activities.
Bringing Thrilling to the Xpo are the M series vehicles. The exhibit will include the first-ever BMW M2, the intensified BMW M4 in Competition Package and select vehicles in the exclusive M Sport trim. Adrenaline-pumping activities include a digital experience in which guests may create their own BMW M Statement image. The exhibit will also feature BMW Motorrad and its growing Heritage Line. Bike enthusiasts will get to see the BMW R nineT and other motorcycles from the Adventure and Sport Lines.
For those who want to literally "experience sheer driving pleasure", the Xpo allows guests to test-drive the latest BMW vehicles. Interested buyers may choose from a wide range of certified pre-owned vehicles or the BMW Premium Selection at special prices. Limited offers on all brand-new BMW vehicles will also be available along with a chance to win exclusive raffle prizes.
"With all of these thrilling activities and world-class display of premium automobiles, the BMW Xpo 2017 represents our strengthened commitment to delivering Sheer Driving Pleasure today and the years to come," said ACC president Maricar Parco.