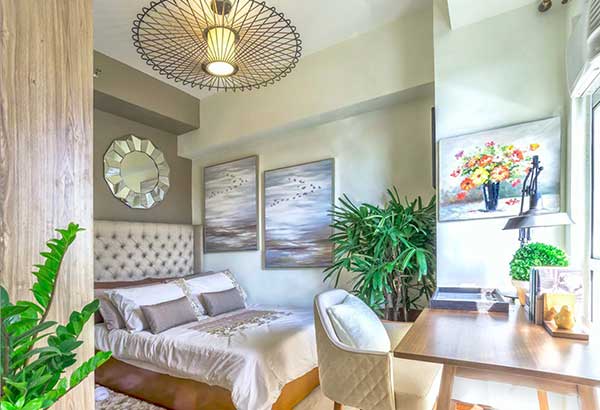 A spacious one-bedroom unit at Vivaldi Residences
Creative convergence in Cubao
MANILA, Philippines - At the bustling and iconic district of Cubao, known as the belly of Quezon City, people can get to almost anywhere in the country as all modes of transportation converge in its nooks and crannies — provincial buses, jeepneys, the Light Rail Transit, the Metro Rail Transit, and passenger vans to Bulacan, Rizal and other adjoining provinces.
Now imagine living right in the heart of Cubao, with all the convenience and accessibility to these transportation hubs but at the same time, being in your own, quiet oasis amid the chaos and noise.
This is what Vivaldi Residences Cubao, the flagship project of Euro Towers, offers – an investment opportunity for those looking for the perfect mix of beauty, comfort, convenience, accessibility, safety, security and return on investment.
The 40-story building is located along EDSA at the corner of Aurora Blvd in the strategic area of Cubao, just meters away from both the LRT-2 and the MRT-3. Makati would just be 22 minutes away; Marikina, 13 minutes while downtown Manila would just be 24 minutes via MRT/LRT.
Floor areas start from 17 to 27 square meters for studio units, 29 to 56 sqm for the one-bedroom units and considerable comfort in 96 sqm or the average two-bedroom units, giving more than ample space to be creative in putting together one's perfect home.
There are also functional and comfortable studio units for the young urbanite, a spacious one-bedroom flat that's just right for a couple in the first few years of wedded bliss or an expansive two-bedroom home for the growing family.
During a recent walk-through of the building, Euro Towers chief operating officer Maricar Encarnacion showed journalists the facilities — an infinity pool with a commanding view of Metro Manila, a jogging space on the top floor where joggers can enjoy both the sun and the afternoon breeze and a gym.
"It's designed for the young, energetic and modern Filipino family," Encarnacion said.
The Sky Pool provides the first in its class feature for the whole country, giving swimmers a stunning view of not only Quezon City but Manila, Rizal, Makati, Fort Bonifacio and the northern gateway.
Families with babies can also lounge around the top floor for early morning sun bathing for their infants.
Encarnacion said residents and guests would immediately appreciate the coming together of elements that make the property a delight for all senses — sight, hearing, smell and test and most definitely touch.
She said it is a good investment for individuals, early nesters and families.
For instance, first investors who joined the bandwagon in purchasing Vivaldi units now enjoy a 35 percent appreciation on their investment, the highest rate among all condo developments in Cubao.
Indeed, Encarnacion said Vivaldi presents a complete set of choices — from the man looking for place to rest his head or to have his buddies come over, the woman who wants to come home to a safe and restful residence, the couple who are ready to settled down and the investor looking for better city options, whether it be a residential property, commercial space or even the unique investment opportunity of a "condotel" the perfect marriage of condominium style living and hotel comfort and amenities.
To those seeking for more, there are also penthouse units on the upper floors.
At a time when space always comes at a premium, these model units show how premium space can and should be, Encarnacion said.
The project also offers condotels, through a portion dubbed as "Eurotel @ Vivaldi."
These are residential units coverted to fully furnished hotel rooms under a lease-management arrangement with Eurotel, one of the country's leading hotel chains, with branches in different parts of the country, making it both a familiar and trusted brand for travelling professionals. This provides a stable earning platform for investors.
No less than four floors of Vivaldi — a total of 99 units — provide condotel buyers earnings from the revenue of hotel operations.
Eurotel @ Vivaldi, serves as the building's home-away from home facility for traveling professionals in need of the same comfort, security, safety and beauty enjoyed everyday by Vivaldi residents.
Vivaldi's condotel competitors charge these costs to investors or as an expense, noticeable reducing earnings. Not so with Eurotel @ Vivaldi. Investors are partners and part of the family, they will be taken care of.
Encarnacion said the project is now ready for occupancy -- not only for residents, those privileged few but also for the condotel investors and the commercial unit owners catering to the whole Cubao community.