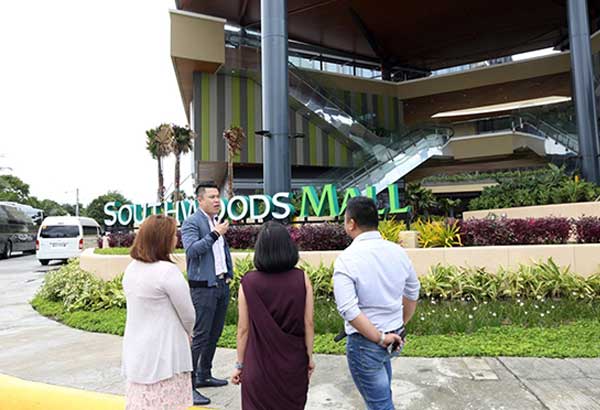 MEGAWORLD SOUTHWOODS MALL: Megaworld senior vice president Kevin Tan speaks to other company executives during the media preview of Southwoods Mall, Megaworld's first full-scale mall in the south which is set to open in October.
Megaworld previews Southwoods Mall
MANILA, Philippines - Megaworld Corp. is expanding its footprint in the south with the opening of a new mall in the 561-hectare Southwoods City in the boundaries of Biñan, Laguna and Carmona, Cavite in October.
The P2-billion mall will have 58,000 square meters of shopping and leisure space, providing an alternative to Makati and Fort Bonifacio, which are both just roughly 30 to 35 minutes away from Southwoods City.
The mall will feature a 24-hour food hall, four state-of-the-art cinemas, a department store, supermarket, hardware store, toy store and its own transport hub.
Kevin Tan, senior vice president and head of Megaworld Lifestyle Malls, said the new mall would be a major lifestyle and dining destination.
"We envision this mall to be major dining destination as we welcome some global dining brands and homegrown restaurant concepts. This will be another showcase of how we want our next lifestyle malls will look like, keeping in mind the distinct character of every township that we build," he said.
The mall will be easily accessible to those living in the south and will be the first big mall along the South Luzon Expressway after Alabang.
"We are excited to open the doors of our first full-scale lifestyle mall in the south," Tan said.
Megaworld said the three-level mall is highlighted by an innovative contemporary design with some touch of indoor greenery through the roof deck garden at the third level.
With the inclusion of Southwoods Mall, Megaworld now has 14 malls and commercial properties across the country.
"We build our malls and commercial properties to primarily cater to those who live, work and play in our townships. This is what makes our lifestyle malls unique and sustainable," Tan said.