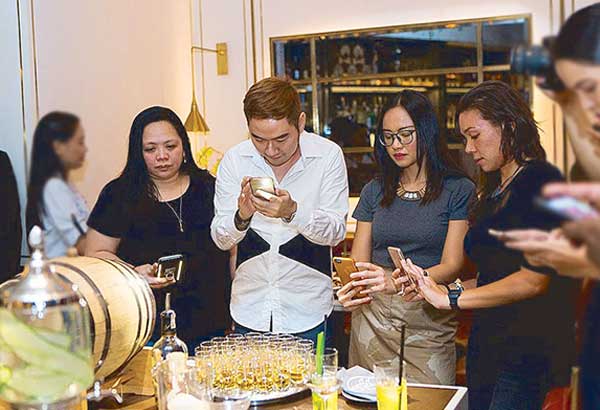 Artist's perspective of Arbor Lanes facade (top) and Pool area.
Ayala's best selling luxury condo
Iris Gonzales
(The Philippine Star) - September 21, 2017 - 4:00pm
Arbor Lanes in Arca South
MANILA, Philippines — Ayala Land Premier, the luxury development arm of the local property giant, is targeting P4.5 billion in sales this year for Arbor Lanes, its newest mid-rise condo shaping up as its biggest selling project to date.
Located within the 74-hectare Arca South, formerly the Food Terminal Inc (FTI) complex in Taguig, the first three buildings of Arbor Lanes have been selling at a robust pace, ALP managing director Mike Jugo said.
"Take up has been very strong. It's really the market recognizing how special Arca South is because of its location," he said.
To date, sales have reached P3.9 billion for 74 percent or 169 units of the first three of Arbor Lanes' five residential blocks. The project has a combined inventory value of P12.4 billion for the 594 units in the first three blocks.
Jugo said the project offers new and unique residential configurations through an intimate garden living experience.
Within the development are unique residential units such as Garden Villas and Garden Suites located at the ground floor.
These spacious three and four-bedroom bi-level homes, boast of generously sized private gardens that range from 74 to 111 sqm.
At the topmost floors, there are Canopy Pool Villas and Canopy Suites. These expansive, bi-level residences further elevate luxury living in Arca South, Jugo said.
There are also Garden Lounges which have approximately six to nine sqm private space that expands the living room.
Units in Arbor Lanes' first residential block range in price from P11 million to P85 million. Arbor Lanes Block 1 will begin turnover by the first quarter of 2018. Phase 2 will follow in 2019, the company's top executive said.
Jugo said Arbor Lanes puts residents into an urban oasis in the middle of a modern metropolis.
In Arbor Lanes, garden living is brought to a different, luxurious new level, he said.
Furthermore, ALP said the discerning market also recognizes how Arca South provides an unmatched location that connects nearly everywhere.
"It is just minutes from the airport, and to our two most important business districts. A connection from the Skyway to the main Arca Boulevard will also bring faster access in and out of the estate," the company said.
Aside from Arbor Lanes, there are other developments in Arca South, the mixed-used business and lifestyle district.
It is envisioned to be a major gateway through its direct Skyway link and the extension of the C5 and C6 highways, it will only be a few minutes from NAIA and major business districts such as the Makati Central Business District and Bonifacio Global City.
Jugo said other developments within the property are on track.
Ayala Land has initially set P80 billion to develop Arca South. Developments targeted in the property include malls, residential towers and office buildings.
By 2019, the lifestyle mall, more residential towers, office buildings and the 265-room Seda Hotel will be developed.
There will also be low density, mid-rise condominiums that are seamlessly connected to retail areas and open spaces. Residences are scaled to nurture connections with 60 percent of the district surrounded in greenery and multi-use public spaces.
The South Intermodal Transport System (ITS), which is expected to be a significant draw for businesses and other interests to position themselves in the area, is another key feature of the restate.
A major intermodal transport hub, the ITS will allow convenient in-city transport transfers between railway lines, city buses, taxis and other public utility vehicles. The project is currently underway and it is set to be completed by 2018.