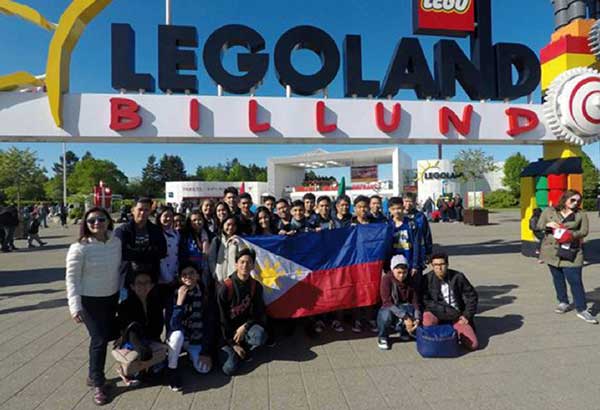 The Philippine Robotics Team represented by Dr. Yanga Colleges Inc. bested 120 teams from 50 countries at the First LEGO League Open European Championship 2017 and received the Young Mentor Award (Claire Renosa) in Aarhus, Denmark.
Giant steps for Philippines robotics
(The Philippine Star) - September 6, 2017 - 4:00pm
MANILA, Philippines — The Philippines does not lag behind other nations when it comes to robotics – the ability to tinker with various materials and craft these into functional gadgets to perform a variety of tasks without direct human interventions.
Among the outstanding Filipinos in robotics is engineer John Judilla, who led in the making of the Mechanical Anti-terrorism Concept. Made of aluminum, fiberglass and plastic materials, MAC is equipped with a mobile arm that can lift objects weighing up to 11 pounds and is designed to disassemble and remove bombs planted by terrorists.
The wonders of robotics are also evident in drone making. Engineer Matthew Cua and his team at SkyEye Analytics have worked on robotic drone applications for use in agriculture, fishing, disaster mitigation, land surveying, flood control and analysis, and infrastructure development.
These breakthroughs are just some of the many testaments to the capabilities of the Filipinos in robotics. Students have also created robots for competitions worldwide, and emerged winners or near the top of lists.
High school student Claire Renosa, 16, won a gold medal for her Humanoid for Educational Reinforcement Operation (HERO), a robot that prevents obesity in domesticated animals by using a weighing mechanism to automatically apportion the right quantity of food.
Renosa also built MATER, a mattress that produces electricity to charge mobile phones when dogs and cats play on the mat. Both robots earned her third place in the 2017 LEGO League Open European Championship.
The Philippine Robotics Team topped the International Robot Olympiad in Bucheon, South Korea in 2015, and in the 2014 World Robot Olympiad held in Moscow, Russia. In 2013, three robots named ProGrow, ProTrek and ProTek, which assist in maintenance and protection of farms, won the 12th PRO and went on to compete internationally.
The Department of Science and Technology and Department of Education have been providing knowledge and classes about robotics to Filipino students. Philippine Robotics Olympiad organizer Mylene Abiva launched the Philippine Robotics Academy, an integrated robotics curriculum implemented in schools.
Science Secretary Fortunato dela Peña himself believes robotics is one key to transform the nation into an intelligent society and that the many breakthroughs bring the country closer to prosperity.