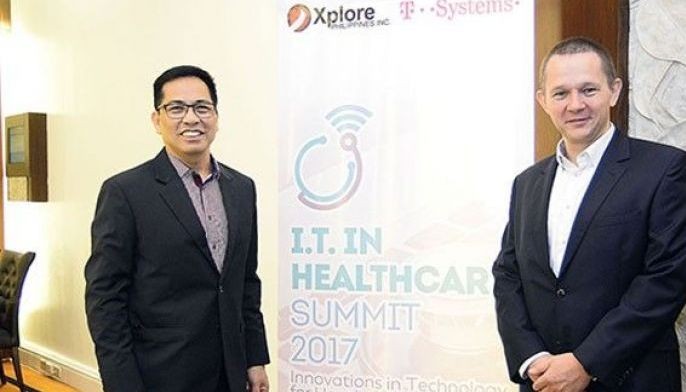 Xplore Philippines president and CEO Leonardo Riingen and T-Systems Singapore managing director for Asia South Arkadiusz Czopor.
IT Health Care Summit connects Philippine hospitals to latest tech efforts
(The Philippine Star) - January 8, 2018 - 12:00am
MANILA, Philippines — Health care has become one of the country's largest sectors in terms of employment and delivery of services to public sector. Out of all the industries where technology plays an essential role, health care is one of the most important, contributing to hospital efficiency and saving countless lives in critical time.
The Philippine government aspires for a health care system that is available and responsive in addressing the needs of the Filipinos. The goal is to come up with a system where Filipinos are valued, respected and empowered, and achieve the best possible health outcomes while protecting them from the high cost of health care.
In line with the Philippine health agenda of the current administration, Xplore Philippines, exclusive Philippine partner of T-Systems Singapore (TSS), closed 2017 with an IT Health Care Summit to unveil the latest developments in IT in health care, as well as to address issues, share insights, and turn health care system challenges into new opportunities for the advancement of IT health care systems in the country.
The event invited committee members of the Department of Health's National E-Health Program, specialty hospitals under the department's supervision, military hospitals and other identified government hospitals.
Held at Edsa Shangri-La last November, the summit featured the following talks: State of IT Health Care in the Philippines by University of the Philippines' National Telehealth's Dr. Raymond Sarmiento, How Digitization is Impacting Hospitals by SAP's Andy David, Digital Transformation in Health Care by TSS' Dr. Nam Timothy, Best Practices and Implementation Strategies by TSS' Amit Mahajan, How US Hospitals are Leveraging Analytics to Improve Outcomes by Andy David, and Advance Health-care Analytics using Machine Learning by Kensci's Peter Lee.
As a continuing activity, Xplore and its partner IT companies are set to hold a workshop this January, which will formulate the hospitals' IT systems roadmap based on a needs analysis.
Moreover, the event will present an overview of SAP solutions, T-Systems and SAS model, and Patient Management/ Patient Accounting.