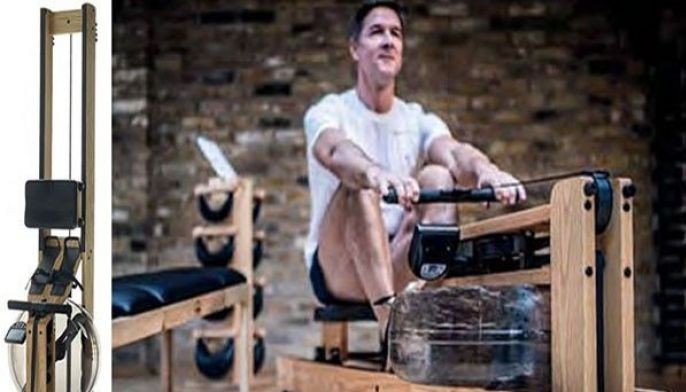 The WaterRower machine uses the muscles of your legs, back, abs and arms simultaneously as you do the exercise to burn more calories. It can be stowed in upright position easily after use (left photo).
(The Philippine Star) - January 8, 2018 - 12:00am
MANILA, Philippines — Everyone wants to kick-off the year doing something positive. A great way to start is to hit the gym and do some cardiovascular exercises. This will help burn those excess calories gained during the holidays.
To jumpstart your fitness regimen, try out a WaterRower machine. It uses the muscles of your legs, back, abs and arms simultaneously as you do the exercise to burn more calories.
I particularly like the design made of wood, which mimics the actual sculling or rowing motion. A great feature is the water tank, which gives a smooth feel of the resistance complemented by the swishing sound of water, which makes it a more pleasant and soothing experience as you work out, reminiscent of the time I used to do sculling/rowing as a sport in the Pasig River. It provides a different feel compared to the conventional rowing machine that uses chains and gears to adjust resistance.
The resistance can be changed depending on speed and intensity. The faster you pull, the heavier the resistance; the less you pull, the lower the resistance. The adequately sized monitor (which shows time, distance, watts and other details) makes you see the data easily. The seat roller is also smooth when you go back and forward. It uses a belt rather than a chain that makes less sound and does not slack when you pull hard and fast.
The only downside to this machine is the clearance or height from the floor. I find it too low that other people might have a hard time getting on and out of it. However, you can get an additional raiser that is sold separately, which to me should be part of the machine/set.
Overall, this Rower is one great, low impact cardiovascular machine, which uses water as its resistance that is gentle and safe on your joints. It is also recommended for people at any fitness level.
The WaterRower is distributed by SportFit Inc Philippines.
First manufactured 25 years ago, the WaterRower rowing machine is designed to fit the home, workplace or fitness studio.
The water tank provides the user a visual as well as an acoustic feedback during workout. Resistance of the machine adapts to the user's input. The WaterRower can be stood upright after use in one simple move.
The heart of the waterRower is the water tank and ergonomic paddle design. The paddle enables maximum pull of water, resulting in an even, smooth and jerk-free resistance. As is unique with water resistance, it is self-determined, meaning it precisely adjusts to the individual movement and strength input of the rower. The WaterRower simulates outdoor rowing through its use of water resistance.