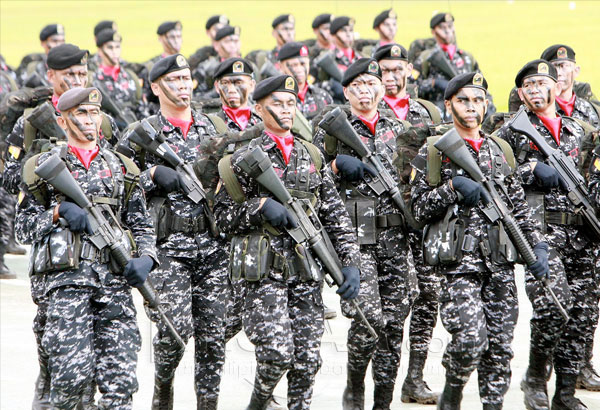 An applicant should have completed at least 72 college units to be accepted to the military. File photo
Army to study impact of K to 12 on recruitment
MANILA, Philippines - The Army is studying the impact of the K to 12 program on its recruitment efforts, saying it may adjust some requirements to prepare for the changes under the new curriculum.
Army spokesman Col. Benjamin Hao noted that an applicant should have completed at least 72 college units to be accepted to the military. The K to 12, however, will reduce the number of subjects to 36 units for all students from 63 units for humanities and social science majors and 51 units for science, engineering and math majors.
"Before, one can earn the 72 units at the age of 18. If one earns the 72 units in college, he will be able to have a career. Most probably we are going to adjust the requirements," Hao said.
"We realized that we should study the implication of the K to 12 program," he added.
Hao said the Office of the Army Assistant Chief of Staff for Reservist and Reserve Affairs is now conducting the study.
"The worst scenario is our rules may not be able to meet our own requirements. We really have to prepare for it," he added.
The Army is also assessing the impact of the K to 12 on age of its officers coming from the Reserve Officers' Training Corps (ROTC) program.
"The ROTC program remains a major manpower source for the reserve force as well as the regular force of the Armed Forces of the Philippines," Hao said.
A total of 111,733 students are taking up basic ROTC while 2,423 others are enrolled in its advance training course.
The ROTC is one of the three components of the National Service Training Program (NSTP), which seeks to instill patriotism among Filipino college students.
Other NSTP components are the Civic Welfare Training Service, which allows students to participate in developmental programs and the Literacy Training Service, which requires students to teach basic skills to school children.
The mandatory ROTC program was abolished following the death of University of Santo Tomas student Mark Chua, who exposed the alleged irregularities in his unit.
The program was scrapped in 2002 after then President Gloria Macapagal-Arroyo signed into law Republic Act 9163, which created the NSTP.