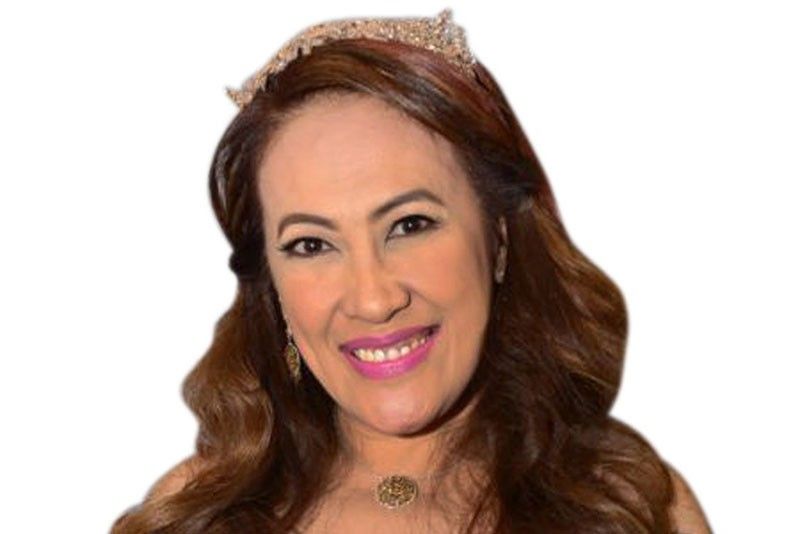 Ai-Ai delas Alas (who headlines #HugotPlaylist with Ogie Alcasid and Erik Santos tonight at the Kia Theater): I am a simple girl with simple dreams.
Photo by VER PAULINO
What it takes to be Ai-Ai
Valentine's Day has always been one of the world's most celebrated occasions. For the romantics in us, it is a time of possibilities. A moment where love conquers all — at least for the space of one night and where everything is rosy, and all things of the heart are within reach. Valentine's is the Christmas for lovers.
It is also one of those dates that people look forward to every year if only for the great shows and concerts that happen during that night. Candlelit dinners for two are made more romantic with a violin or two. Or maybe an orchestra to the side. Crooners and torch singers abound on a night thick with music. And love.
Tonight, true to form, Valentine's will once again be the setting for another great show featuring none other than the Philippines' Comedy Queen herself, Ai-Ai delas Alas. Titled #HugotPlaylist, the show starts tonight at 8 at the Kia Theater in Cubao, Quezon City.
We were able to catch up and chat with Ai-Ai while she was deep into the preparations for her show and she gave some insights on what it takes to be her, and what people coming to her Valentine show can expect.
How has being dubbed the "Philippines' Comedy Queen" affected you?
"It changed me in a positive way, in that it keeps me humble. But sometimes I feel some pressure, that I should somehow maintain the title. Which is good because it is what keeps me innovating, while at the same time helping me keep my feet on the ground."
Are you still affected by fame? How are you handling fame?
"I have been in show business for so long that it has become part of who I am. I try not to be affected by fame and I just keep on praying that I would be able to take it one day at a time, and stay humble even with all the blessings that I have received."
What is the secret to your longevity?
"The only secret is pakikisama, giving respect to your co-workers, being professional in your approach towards work and loving and being passionate about what you do."
Social media has revolutionized everything including entertainment. What is your take on social media?
"There are both the positive and negative effects of social media. On the positive side, you can now advertise yourself. It can bring people who are interested in same things together. It can also be used to assist people who are in need by bringing their concerns to others who can help. On the downside, social media has made it easier for people to bully others while remaining anonymous. Rumors also spread a lot faster now. And if left unchecked, it can affect kids that are overly exposed to it at an early age. But overall, I believe in the potential of social media to be a benefit to the community once we learn how to properly harness its power."
Tell us about your concert #HugotPlaylist?
"#Hugot Playlist is a fun-filled Valentine concert where people in love or have just fallen out of it can come and have a good time. I will be sharing the stage of the Kia Theater with my good friends Ogie Alcasid and Erik Santos. We also have the beautiful Solenn Heussaff as our special guest — mag-sho-showdown kami sa pagandahan."
What is your favorite hugot line for Valentine's Day?
"Nagmahal, nasaktan rumekover at nag-concert."
And your favorite hugot song?
"Aegis all the way."
Are you happy or contented?
"I am contented. And in the Law of Happiness, I always apply this philosophy — accept the things that you cannot change... and from there you can be happy."
At this point in your career, are there still things you aspire for or things you want to achieve?
"Yes, I still want to do a film with Ms. Vilma Santos. And to make a movie in Hollywood — kasi libre naman ang mangarap di ba."
Ano yung pinaka malalim na hugot sa buhay mo?
"That all my marriages failed."
As an artist what would you consider as your biggest achievement? And what is your biggest regret?
"My biggest achievement is the movie, Tanging Ina. From there, I was able to bring my career to new heights. It opened so many doors for me. As for regrets, I try not to think about those things. I believe that failures are life's way of teaching us, and as hard as I have fallen, I have always become stronger every time I rise."
How is your love life? Do you believe in 'forever'?
"I am happy and contented with my lovelife, and yes, now I believe in forever."
If you are not who you are today, who would you be?
"A beautiful flight attendant. Seryoso."
What is your greatest achievement as a woman and as a mother?
"As a woman my greatest achievement is being a single mother and raising my children alone. Bilang ina, you will realize many things, you will discover strengths you never knew you had and fears you never knew existed."
Some people say that humor has changed in this generation, how do you stay on the hook for your fans?
"The most important thing for every performer is to give your heart in every performance. As long as you give your 100 percent to make your fans happy, then they will always be with you. Humor has not changed. It is merely a matter of being aware of your audience all the time."
Who is Ai-Ai when no one is looking?
"I am a simple girl with simple dreams... and most of the time, antukin, mahilig mag-color, at magluto."
How do you see yourself in the next five years?
"I hope that I would still be in showbusiness. And maybe as a business typhoon — oo, typhoon hindi tycoon."
For #HugotPlaylist tickets and inquiries, call Ticketnet at 911-5555.