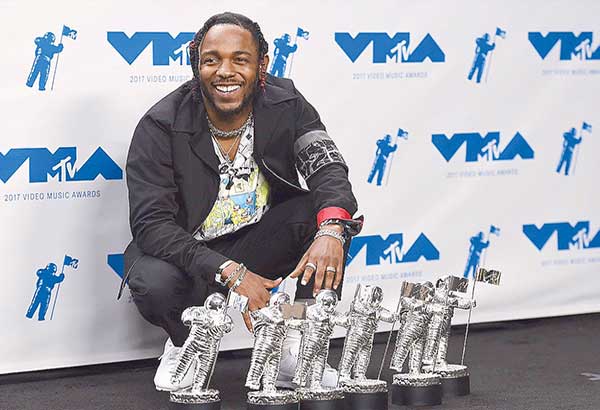 Kendrick bags six trophies out of his eight nominations including the most coveted plum of all, Video of the Year. — AP Photo
Kendrick Lamar wins big at the MTV VMAs
It is turning out just like I predicted. Only a new album by the likes of Taylor Swift can keep DAMN by Kendrick Lamar from being the biggest-selling album of the year. This strong, no holds-barred but poetic meditation on how faith manages to survive and even thrive in this world shows Kendrick's best writing ever. He is a true poet of hip-hop and the album is selling big.
But then, here comes Taylor with all her Swifties in full force. She has a new album, reportedly dark and different, titled Reputation that is due for release come November. She has released the first single, Look What You Made Me Do and last Aug. 27, it was Monday morning Aug. 28, out here of the live telecast, the music video premiered at the MTV Video Music Awards.
Swift was not present at The Forum in Inglewood, California where the event was held but she sure made her presence felt in a big way. The video has Taylor rising from the grave as a new, stronger version of her previous selves. I do not know how this different approach will affect her career but those results will still be felt a long way off. At this point, even curiosity alone about her music is enough to keep Taylor selling big.
Does this mean that the 30-year-old Kendrick has already lost in the biggest-selling race? Maybe. But I do not think he cares as much about that though. He was on top of the world at the VMAs as the evening's big winner with six trophies won out of his eight nominations including the most coveted plum of all, Video of the Year. He also starred in one of the best opening numbers in VMAs history a literally "fire-y" performance of his big hit DNA with burning ninjas.
Here now is the MTV VMAs 2017 list of winners:
Video of the Year: Kendrick Lamar, Humble
Artist of the Year: Ed Sheeran
Best New Artist: Khalid
Best Collaboration: Zayn and Taylor Swift, I Don't Wanna Live Forever (Fifty Shades Darker).
Best Pop: Fifth Harmony feat. Gucci Mane, Down
Best Hip-Hop: Kendrick Lamar, Humble
Best Dance: Zedd and Alessia Cara, Stay
Best Rock: twenty one pilots, Heavydirtysoul
Best Fight Against The System: Note that all of these nominees were declared winners. Logic feat. Damian Lemar Hudson, Black Spiderman; The Hamilton Mixtape, Immigrants (We Get The Job Done); Big Sean, Light; Alessia Cara, Scars To Your Beautiful; Taboo feat. Shailene Woodley, Stand Up/ Stand N Rock #NoDAPL; John Legend, Surefire.
Best Cinematography: Kendrick Lamar, Humble
Best Direction: Kendrick Lamar, Humble
Best Art Direction: Kendrick Lamar, Humble
Best Visual Effects: Kendrick Lamar, Humble
Best Choreography: Kanye West, Fade
Best Editing: Young Thug, Wyclef Jean
Pink was presented by Ellen DeGeneres with the Michael Jackson Video Vanguard Award, which recognizes exceptional accomplishments in music and film. Pink is certainly accomplished as proven by that greatest hits medley that she performed of songs like Get The Party Started, Raise Your Glass, So What, Just Give Me A Reason and others.
The most controversial award of the evening went to XO Tour Llif3 by Lil Uzi Vert. I say controversial because one of the other nominees in this category was Despacito by Luis Fonsi and Daddy Yankee feat. Justin Bieber. The Despacito video was not nominated in any of the MTV VMA categories that a lot of people found strange about a song that is truly the song of the summer of 2017. Was that a reflection of what MTV thinks of Latino artists?
Anyway, just like Kendrick I do not think Luis, Daddy and Justin himself cares that much about getting a Moonperson. Despacito has just tied with One Sweet Day by Mariah Carey and BoyzIIMen as the longest staying tune in the No. 1 slot of the Billboard Hot 100. This gives Despacito now has only a few days to do before making history as the biggest No. 1 seller of all time.
And before I forget that new name for the Moonman is Moonperson. The change was brought about in the name of "gender neutrality" by MTV.
Host of the evening was Katy Perry who "flew in" from outer space in a Moonperson outfit and then pattered her way throughout the show. Belles of the ball were Lorde who lipsynched but was lovely in lavender; Alessia, who literally staged a make-down of accessories and make-up during her number; Miley Cyrus in Grease mode who started a song in short, short rompers and ended it with a full skirt; Fifth Harmony members who sang well but showed they needed more time at the gym after getting themselves wet; Demi Lovato for sounding fantastic and to Hailee Steinfeld, Paris Jackson and Vanessa Hudgens for looking gorgeous.
Clever Ed Sheeran did not perform Shape of You but opted instead for XO Tour Llif3 with Lil Uzi Vert; Shawn Mendes is no gawky kid anymore but a polished performer; and that was a show-stealing turn by Joe Jonas when his DNCE performed the classic Do Ya Think I'm Sexy with the ageless and sexy Rod Stewart.