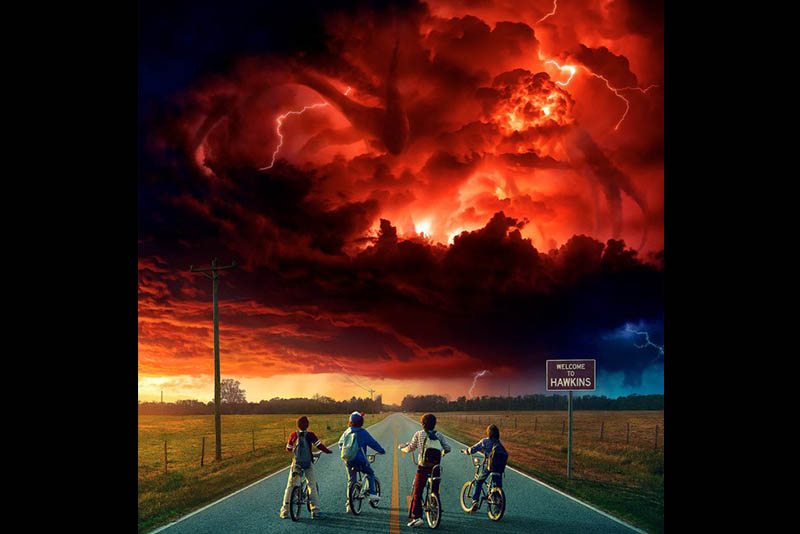 Scene from "Stranger Things" Season 2 poster.
3 strange things why 'Stranger Things' the biggest thing since 'Game of Thrones'
(philstar.com) - September 7, 2017 - 11:51am
MANILA, Philippines — It has been over a year since Mike, Dustin, Lucas, Will, and Eleven took the world by storm; making "Stranger Things" a cultural phenomenon.
Who would have thought that Netflix's '80s themed science fiction drama series is going to shake the entire world upside down just like what the Demogorgon did during the pilot season?
After the first run, "Stranger Things" bagged awards and nominations and created a remarkable breakthrough for some of the cast members. For instance, Finn Wolfhard and Millie Bobby Brown had several magazine covers and TV appearances after season 1 which further propelled their fan base into a global scale.
This year, it reaped awards such as Screen Actors Guild Award for "Outstanding Performance by an Ensemble in a Drama Series," Producers Guild of America Award, MTV Movie & TV Award for Best Actor in a Show for Brown; and MTV Movie & TV Awards for Show of the Year.
At the upcoming Emmy Awards, the series scored 18 nominations, the second most in nominations. Among the major awards at stake are Best Supporting Actor for David Harbour, who plays the Hawkins police chief Jim Hopper; Best Supporting Actress for 13-year-old Millie Bobby Brown; and Shannon Purser, nominated for Outstanding Guest Actress for playing Barb.
Here are three strange things why fans think the series is the next big thing since "Game of Thrones" and why it should win big at the upcoming Emmys on September 17 (US time):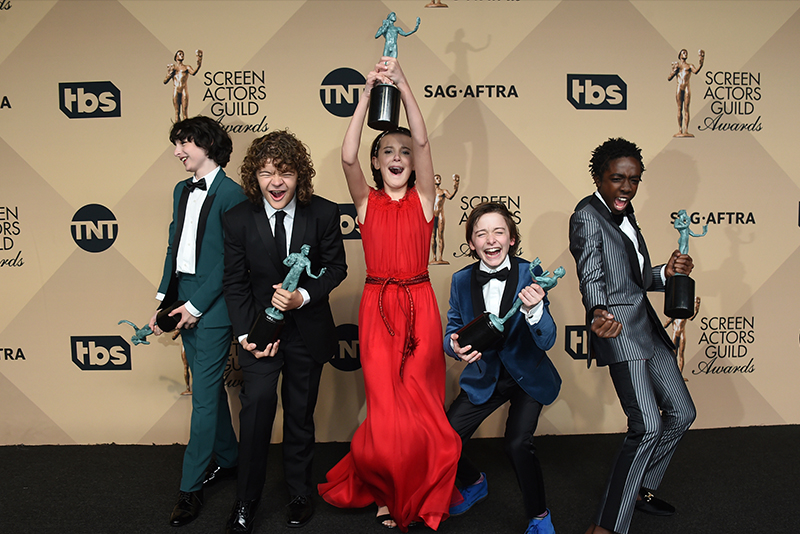 From left: Finn Wolfhard, Gaten Matarazzo, Millie Bobby Brown, Noah Schnapp, and Caleb McLaughlin pose in the press room with the awards for outstanding performance by an ensemble in a drama series for "Stranger Things" at the 23rd annual Screen Actors Guild Awards at the Shrine Auditorium & Expo Hall on Sunday, Jan. 29, 2017, in Los Angeles. Invision/AP/Jordan Strauss
1. "Stranger Things" is a true word-of-mouth hit
The plot of season 1 revolved around the sudden disappearance of Will Byers and the debilitating search and rescue that followed after. This was also when an enigmatic yet inspiring character of Eleven surfaced and formed an amazing bond with the other three kids: Mike, Dustin, and Lucas—who all bravely fought to solve the strange things that have engulfed the town of Hawkins, Indiana.
As a throwback series set in 1983, the producers of the show envisioned "Stranger Things" to be a full length blockbuster film that pays homage to the OG films of the '80s. "Stranger" Things has that uncanny semblance with the classic films of Steven Spielberg and how the storyline was built to create anticipation and excitement, similar to the approach of Stephen King's best-selling novel, "The Mist."
The whole season 1 was praised worldwide for its superb directing, acting performances, the creativity behind the unique glowing title logo, and more importantly, the synth-heavy musical scoring that really elevated the old school vibe. Not to mention, the curation of the cast members from the budding young actors to the veterans like Mathew Modine (Dr. Brenner) and Winona Ryder (Joyce) was a testament to the creators Matt and Ross Duffer's commitment to making "Stranger Things" a force to reckon with.
2. They got the love triangle right with "Stancy" and "Jancy"
There is no denying that "Stranger Things" —which started relatively low profile—has acquired a massive following in almost all countries where Netflix is available. And this could only mean one thing: the show has pulled off an increasingly rare feat" becoming socially viral where people are telling their friends to never miss out on this sci-fi thriller because it is something special.
Effectively capitalizing on the supernatural elements was one of the reasons why the show was a big hit. Everyone seems to be into these types of genre. But there is another side of "Stranger Things" that somehow created quite a stir on social media: the love triangle between Steve Harrington, Nancy Wheeler, and Jonathan Byers, a.k.a. "Stancy and Jancy."
With so many "strange things" going on within Hawkins, the romantic conflict between Joe Keery (Harrington), Natalia Dyer (Wheeler), and Charlie Heaton (Byers) was a bittersweet escape. We love the trio because they represented personalities and relationships that were way too believable to ignore. The way the three characters were composed was astonishingly brilliant. They were not just made to appeal and be relatable to everyone. They were expertly and compassionately crafted to disrupt the status quo. When the three of them were sad or angry, it was impossible not to feel or understand what they were going through. It was like getting caught up in their own version of "upside down."
Although the season 1 ender had left us all hanging with one big question: Who will Nancy choose - the douche bag heartthrob Steve Harrington or the ruggedly dashing Jonathan Byers? Enough reason to be excited for season 2, right?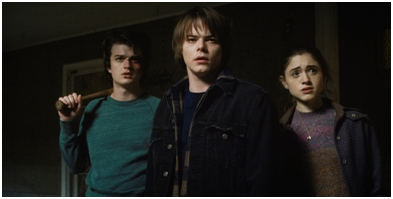 Joe Keery, Charlie Heaton, and Natalia Dyer in a scene from "Stranger Things" Season 1
3. "Stranger Things" Season 2 is a good Halloween treat
After Netflix's global announcement of "Stranger Things'" sophomore season air date which is slated for an October 27 release, the whole world lost its mind. Looks like the frenzy is not over yet and without a doubt, it will be one of the most talked about shows this 2017.
During the Netflix "Hall N Panel" for Stranger Things season 2 at the Asia Pop Comic Con 2017 held last August 26 at the SMX Convention Center, fans across all ages got to see and engage with two original characters, Will Byers (Noah Schnapp) and Steve Harrington (Joe Keery), together with two fresh mainstays, Max (Sadie Sink) and Billy (Dacre Montgomery), whose characters were not fully revealed yet.
When panel moderator Rovilson Fernandez asked what the fans can expect with the new season, this is what they had to say: "You'll definitely see more of my character's range in season 2. What I love about what the Duffer brothers did in season 1 is that they did a lot of exploration and depth with my character, and I think I kind of started in the similar place as I ended, and then I kind of, without saying too much, became more interesting in season 2, so hopefully people will enjoy the twist", Keery explained during the interview.
"All throughout season 1, my role was almost alarmingly one-dimensional. I was stuck in the upside-down and with that, I didn't really get to showcase my acting range. But with season 2, I feel like I was able to get to where I wanted to be as an actor. So, I hope the fans will stick with us through the end," Schnapp added.
Few months back, Netflix had been hinting and building the excitement around season 2 and everyone patiently waited. When the first teaser of the second season was dropped during Super Bowl, everything went haywire. Fans started speculating possible plots and twists but still unable to crack the new season wide open. Fortunately for us all, with Netflix's collaboration with Asia Pop Comic Con, we were able to get a better glimpse of "Stranger Things 2."
The Asia Pop Comic Con is known for bringing some of the biggest names from the Marvel and DC universe to Netflix breakouts, and this year, it has once again delivered its promise by bringing the stars of "Stranger Things."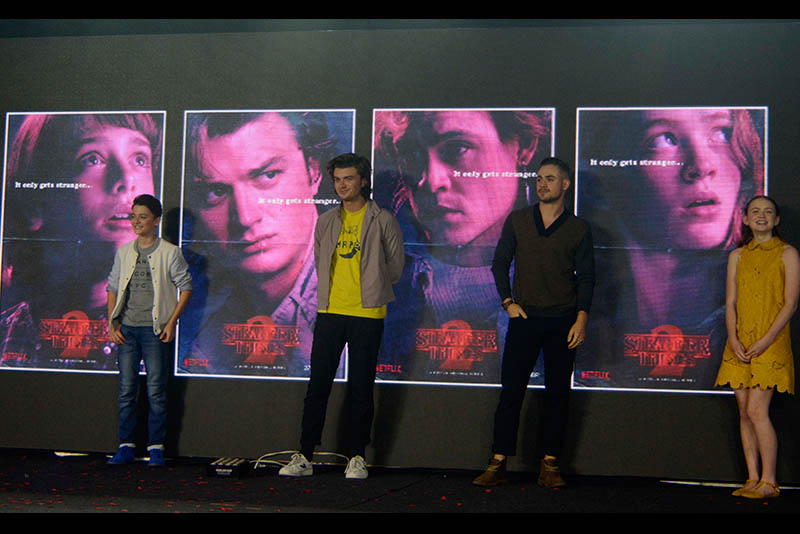 The cast of "Stranger Things" at the unveiling of their official posters at APCC Hall N Panel. Philstar.com/Seph Asong
The highlight of Netflix's Hall N Panel was the unveiling of the second season's new teaser video. This was the moment where everyone in the room held their breaths for as long as they can; fighting over the built up mixed emotions from within. Based on the video, we were finally able to unravel some important facts:
Will Byers was being emotionally haunted by something far worse than the Demogorgon. In the teaser, he seems to be seeing a lot of strange things from the upside down. He just could not figure out if these visions were real or not.
Two new major characters will be a mainstay throughout the second season: Sadie Sink and Dacre Montgomery, who played brother and sister Max and Billy. Max will somehow form an unexpected relationship with the rest of the gang, while Billy's participation will be erratically somewhere between an ally and a foe.
Mike Wheeler was more devastated than what we thought after losing Eleven during the episode finale of season 1. He will have the most difficult time grappling around the fact that he may never get to see Eleven again.
An even bigger sinister was unleashed from the Upside Down. In the teaser video, the whole gang was up against a massive monster hovering around an ominous red sky. And fans were saying that it is probably a Demogorgon on steroids.
Eleven is coming back. During the season ender last year, Eleven seemed to have perished from battling against the Demogorgon, but then again, everyone knows she is something special and we just cannot accept that her character is forever gone. In the season 2 trailer, Eleven resurfaced in the most dramatic possible way; clawing her way back to Hawkins.
The plot for season 2 is set on the fall of 1984, a year after the series of unfortunate and mischievous events that occurred in the small town of Hawkins, Indiana. And with the return of indie band Survive's dreamy and synthy theme tune, everyone is already anxious and excited at the same time.
All these make "Stranger Things" Season 2 a perfect and timely Halloween treat for us all.