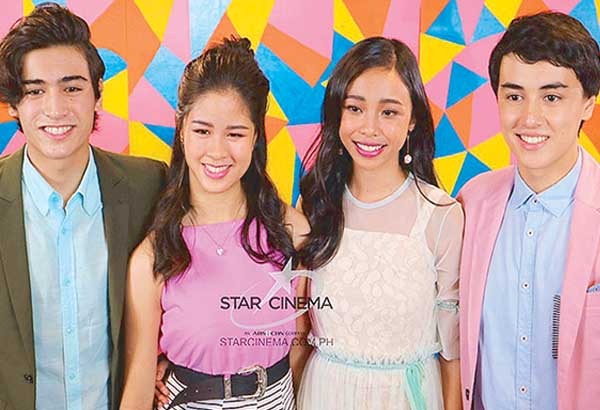 Maymay Entrata (second from right) and Edward Barber (rightmost), or MayWard to fans, make their debut movie titled Loving in Tandem with the KissMarc loveteam of Kisses Delavin and Marco Gallo. The Star Cinema romantic-comedy opens in theaters on Sept. 13.
MayWard, KissMarc won't let bashers affect them
Bot Glorioso
(The Philippine Star) - September 10, 2017 - 4:00pm
MANILA, Philippines — In this day and age when social media has become easy access for everyone to scroll through, click away and comment on, celebrity bashers seem to have a field day unleashing harsh, hurting remarks on stars whom they love to hate. Even newbies are not exempted.
Among those who can attest to this kind of "emotional and mental torture" are Pinoy Big Brother Lucky 7 alums Maymay Entrata, Edward Barber, Kisses Delavin and Marco Gallo, now popularly known to fans by their respective love teams as MayWard and KissMarc. Maymay admitted to having cried several times over online bashing. But it didn't take long before she learned to shrug off all things nasty being said about her.
"Hangga't nakakapit ako sa Diyos, only God can judge me," said Maymay during the presscon for Loving in Tandem, a Star Cinema-produced movie that she topbills with Edward, Kisses and Marco. "I have learned to care less on what they want to say." That way, Maymay can easily focus on the things that matter for her budding career.
Her screen partner Edward, on the other hand, takes "day-ruining" comments lightly which makes him doubly amused in dealing with them. Edward appreciates how his late grandmother used to remind him not to allow life's minor hitches get the better of him.
"My Lola told me before she passed away that if you could smile at a problem, then it's not a problem because you could laugh at it so that's what I do. I take her advice every day. If I see a comment, 'Edward, you are like blah and blah,' I screenshot it and send it to Maymay or my friends and we're just like (making) fun of the person."
But he stressed that not once did he try to make an "equally and deliberately offensive" response. "No, I don't comment back... it's just for all good fun. So when something feels heavy why not make a joke out of it."
Marco, who grew up in Italy, is not the type who would waste his precious time on someone whose goal is to distract and destruct.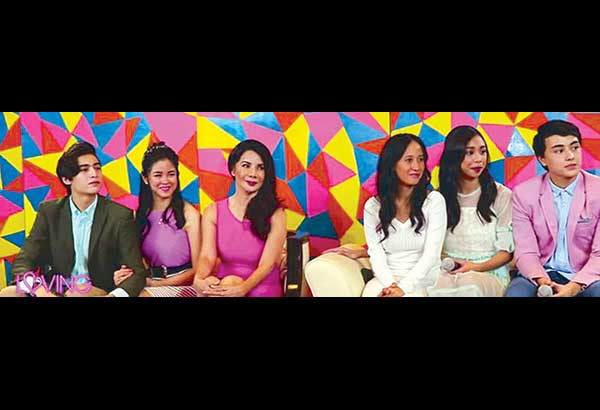 With their co-star Carmi Martin (third from left) and director Giselle Andres
"In Italy, people there do not mind other people's business and they never give importance to what others think of them," shared Marco. "But once someone close to them, like me, when my friends or loved ones tell me what I did was wrong then dun ako mag-iisip kung ano ang mali (sa akin). But when it (comment) comes from others who do not know me personally, they're just words without feelings."
Another equally admirable way of dealing with bashers can be learned from Kisses. She never fires back either but knows how to spare herself from emotional pain. She confided, "For me, what you don't see won't hurt you. So as much as possible, I don't read comments anymore. Before, I used to do that because I wanted to know what other people think of me but now I feel more free because I just listen to my biggest critic and that is myself then my parents and the veterans; sila lang ang pinapakinggan ko."
Besides, more than the bashers or trolls, Kisses, Marco, Edward and Maymay have a lot of good things to focus their attention to. They are among the lucky few who get to work on a movie project only a year after their official entry to showbiz.
The four Kapamilya talents expressed delight over their first big-screen outing under director Giselle Andres who, like them, is a newbie. But despite their being all "first-timers," Loving in Tandem serves well its purpose of giving quality entertainment — already on display from the movie teaser alone.
The camaraderie and fun cannot also be denied from the way Marco, Kisses, Maymay and Edward interacted with co-stars Thou Reyes, Carmi Martin, Ryan Bang and Simon "Onyok" Pineda during the presscon. Edward, on his recent Instagram post, couldn't hide how grateful he was to everyone who's part of the movie. A photo showing him and co-stars on the dinner table was captioned, "It's been a hard journey and the biggest challenge of my life. But I've never enjoyed anything more. Thank you for all this blessing."
Loving in Tandem also stars Ketchup Eusebio and Cacai Bautista. It opens Sept. 13 in theaters nationwide.