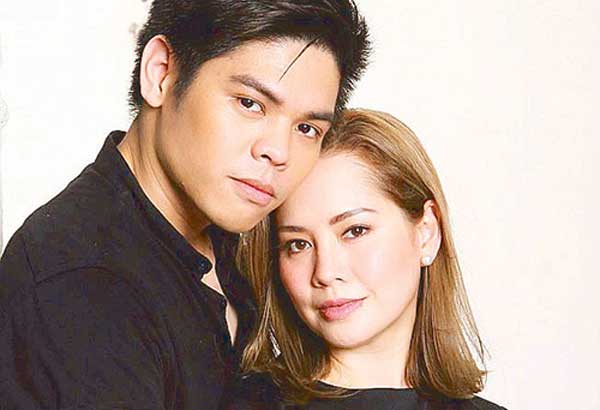 Playing Ligaya Paraiso, Shiela Valderrama-Martinez (with co-actor Arman Ferrer) is now neck-deep into rehearsals for Maynila Sa mga Kuko ng Liwanag: The Musical, to be staged by Grand Leisure Corp. starting Sept. 30 at the Kia Theater.
The Lino Brocka classic is now a musical
MANILA, Philippines — No role is too tough or heavy for theater and TV actress Shiela Valderrama-Martinez. Every assignment is a challenge for her. There's no way she wouldn't give her best in every acting project that lands on her lap.
She auditioned for the role of Ligaya Paraiso in Maynila Sa mga Kuko ng Liwanag: The Musical and got the coveted part. That's the reason Shiela is now neck-deep into rehearsals for the much-awaited musical, to be staged by Grand Leisure Corporation starting Sept. 30 at the Kia Theater.
"The cast had to do a month of body conditioning before going into the rehearsal proper," Shiela shares. "The entire show itself is quite a challenge. The choreography, the music, all of which are coming together beautifully."
It's also the first time for Shiela to portray an intense character like Ligaya. She had to research about the role and incorporate her own ideas. Admittedly, she has never seen Lino Brocka's classic film adaptation of Edgardo Reyes' timeless novel, that starred Hilda Koronel as Ligaya and Bembol Roco as Julio Madiaga.
Shiela auditioned before director Joel Lamangan (who's at the helm of the musical), choreographer Douglas Nierras, musical director Von de Guzman and line producer Maricel Ticar of Fullhouse Asia.
"Coming in, I knew Maynila Sa mga Kuko ng Liwanag was a multi-awarded novel and film," Shiela asserts. "I've heard about it, but never got to see the film."
Playing opposite Shiela is Arman Ferrer as Julio, while Lara Maigue will alternate as Ligaya. Tapped to play other important characters in the musical are Floyd Tena (Pol), Noel Rayos (Atong), Rafa Siguion-Reyna and Joseph Puducay (Imo), Aicelle Santos and Rita Daniela (Perla), Jim Pebanco and Joseph Billezar (Mr. Balajadia), Khalil Kaimo (Gido), Jeffrey Camanag (Omeng), Romcel Binquis (Benny), Randy Rey (Frank) and Dulce and Ima Castro alternating as Mrs. Cruz.
Shiela is fortunate to work with director Joel in Maynila Sa mga Kuko ng Liwanag: The Musical. "I'm very much enjoying working with him," Shiela says of her director. "He's strict, passionate and has a great sense of humor. It's also quite an honor to be working with an amazing artistic team."
Aside from acting in theater, Shiela has been blessed to land roles on TV, too. At present, she plays the feisty lawyer of Maja Salvador and Sunshine Cruz in the late afternoon series, Wildflower, on ABS-CBN.
"My agent received an inquiry about me, so we submitted my profile and CV (curriculum vitae)," Shiela offers. "Fortunately, I got their approval (to be in Wildflower). It's a blessing to be part of a great show, with such a wonderful team behind it all, actors and production."
Even if Shiela is aware that the discipline between acting on stage and on TV is poles apart, she is nonetheless thankful for the good breaks. She has adjusted well working in two, different acting arenas.
"I know it's different in many ways, but theater and television have important similarities which I try to focus on," Shiela maintains. "Energy, concentration, truth and good memorization skills are basics that both mediums apply. I've also been lucky to have great directors guiding me."
Shiela is married to theater actor Lorenz Martinez. She admires Barbra Streisand, while singer-actress Sutton Foster is her true idol. Sheila dreams of one day playing Evita Peron on stage, Jenna in Waitress the musical, Mary Magdalene in Jesus Christ Superstar and Rita in Ground Hog Day.
Shiela recently released her self-titled debut album, now available on iTunes, CD Baby and Spotify. After Maynila Sa mga Kuko ng Liwanag: The Musical, she is set to do another play, Comedy of Tenors, for Repertory Philippines.