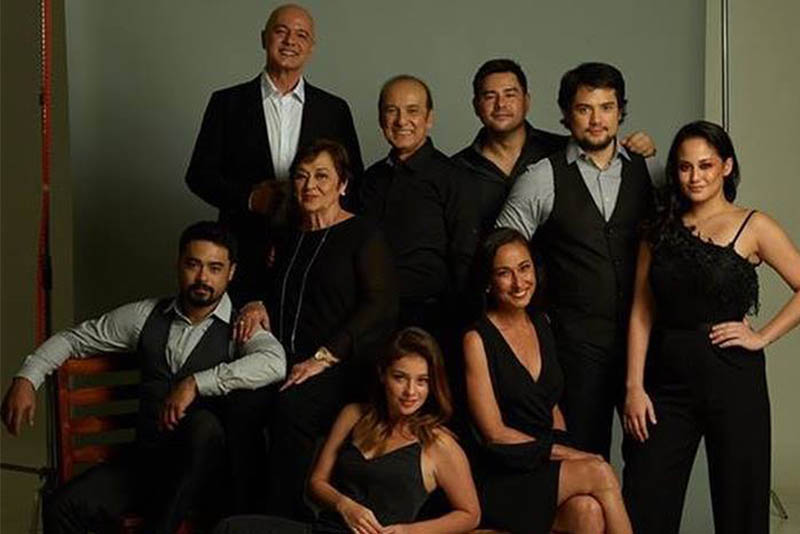 Eddie Mesa (center) and his Eigenmann grandchildren – Michael, Cherie, Ryan, Geoff, Andi, Gabby, Maxene and Sid Lucero — with wife Rosemarie Gil and children Cherie Gil and Michael De Mesa. Photo by Mark Nicdao
Eddie Mesa: Philippines' Elvis Presley to perform with his showbiz family
MANILA, Philippines — Millennials may have yet to acquaint themselves with Eddie Mesa, the so-called "Elvis Presley of the Philippines," but certainly not his descendants.
Eddie knows his name rings a bell among millennials if he has been tagged as the "lolo" of Andi, Ryan, Gabby and other Eigenmanns in showbiz, as well as talented actor Sid Lucero. But he does not mind.
Neither would he mind if people refer to him as the father of Michael de Mesa, Cherie Gil and the late Mark Gil.
After all, Eddie has been away from showbiz for so long. His last concert in the Philippines was 25 years ago. His last film was "Kaputol ng Isang Awit" with Sharon Cuneta and Gary Valenciano 26 years ago.
But he did not let his long absence from the local concert scene keep him from doing what he does best: singing.
"Dad continues to sing for the Lord as an evangelist," Cherie told media at the press con for the concert "Sing Us Your Song Again … The Music and Legacy of Eddie Mesa" on Saturday, Sept. 23, 8 p.m. at Meralco Theater.
He sharpens his vocal skills the way an athlete hits the gym regularly to face a tournament.
"Sobrang disciplinado. He vocalizes every day," added Cherie.
No wonder Eddie, at 79, can still perform Elvis' "You Ain't Nothin' But a Hound Dog" with the voice and gusto of a singer much younger than he is. For him, longevity as a singer is a matter of faith more than anything else.
"He (God) enhanced my singing capacity when I started surrendering my life to Him and using my voice to sing praises to Him. He told me that I shouldn't be doing to preserve my voice," he said.
Eddie doesn't drink cold water. He has turned his back on a life of excess. He now gets his high in singing songs for the glory of his Creator.
The inner peace that comes from this shows in Eddie's face and movements – none of which hints that he will turn 80 next year.
"Everything changed when I had a personal experience with the Lord Jesus Christ. Even my singing changed because I don't have bad habits anymore," he said.
The best part is that his family – the prominent Eigenmann clan of showbiz – embraces its patriarch, warts and all.
Eddie admits his wife, former actress Rosemarie Gil, acted as mom and dad to their children the first time their parents separated (they got back in each other's arms after 16 years).
But the children – and the grandchildren – do not harbor ill feelings toward Eddie.
The third generation Eigenmanns present at the presscon – Andi, Ryan, Sid, Gabby, Geoff and Maxene – are even proud to call Eddie "Lolo."
Gabby even cracks a joke about his colorful family: "We're really a different kind of showbiz family. We have different surnames, four in all, I think: De Mesa, Gil, Eigenmann, and Lucero."
Members of the clan laugh, even if the joke's on them. It shows a family that supports each other – in light or serious times.
Eddie is grateful to Rosemarie for keeping the family together, especially during the tough years of their separation. He is also grateful to his children because "there's that love despite the fact that I abandoned them."
There is that togetherness, even among the grandchildren whom Eddie admits "I really don't know much."
The presence of other Eigenmanns – Michael, Cherie, Ryan, Geoff, Andi, Gabby, Maxene and Sid Lucero — as concert performers shows that the family can rely on each other for support (other guests are Pilita Corrales, Christopher de Leon, Edgar Mortiz, Tirso Cruz III, Ciara Sotto and The Hotlegs).
More than his music, Eddie Mesa's bigger legacy is a family for whom love and forgiveness are not just big words. It is something they give each other, whether the cameras are there or not.