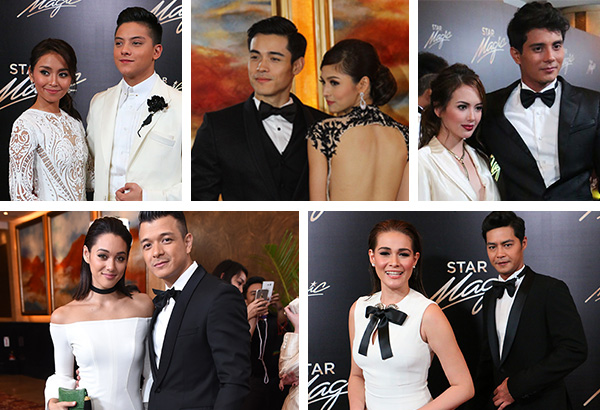 Star Magic stars and couples in past balls, wearing this year's "black and white" theme. Philstar.com/File
Star Magic Ball 2017 details revealed
MANILA, Philippines — Since Star Magic is celebrating its 25th anniversary, this year's Star Magic Ball is expected to gather not only the ABS-CBN talent center's 300-plus pool of artists, but also past Star Magic talents like Kristine Hermosa, Heart Evangelista and Claudine Barretto.
This year's Star Magic Ball theme, according to an official statement released to Philstar.com, is black and white.
The ball will be held at a hotel ballroom on September 30 and will be broadcasted live on Lifestyle TV, with live patches on ANC, live streaming on Metro YouTube and TFC.com (mirror feed with Lifestyle-HD), and catch-up programming on TV2, KBO, IWanTV, Sky Free View, SVOD (program feed-HD), and other partners such as ABS-CBN.com, NoInk, API, Lifestyle Hub and Push.com.
The airtime for all telecasts will start at 6:30 p.m. All artists should be at the cocktail area by 8 p.m. Gretchen Ho will interview the artists as they come.
Martin
Nievera
will host the ball. He will also sing the opening performance,
"Just Once In A Lifetime," originally by Sammy
Davis. Next, Star Magic will show the teaser to its coffee table book. This will be followed by special awards like Best Dressed and Couple of the Night.
Next,
KZ Tandingan, Yeng
Constantino, Xian Lim, Denise Laurel and Jolina
Magdangal will perform a medley.
The event will be capped off by an afterparty,
and by that time, media coverage of the event is expected to end to give way for the artists to be free to be themselves and to party.
Besides the outfits and the dates the artists would bring (or leave with), cat fights and other unexpected behind-the-scenes make the ball a highly anticipated event every year.