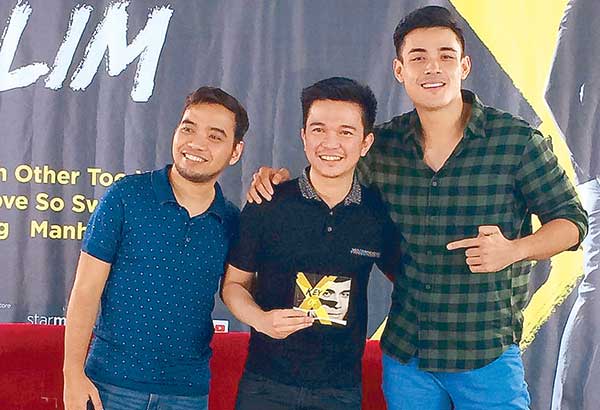 Xian Lim (far right, with Kiko Salazar and Star Music audio content head Jonathan Manalo) releases his third album titled Key of X, three years after his sophomore album, and for the first time ventures into production work
Xian directs own music video
Bot Glorioso
(The Philippine Star) - October 1, 2017 - 4:00pm
MANILA, Philippines — Xian Lim does something new in his latest album that would definitely make his fans curious to find out what he's up to this time. The album, titled Key of X, is Xian's third under Star Music after his sophomore record three years ago.
Perhaps, his creative juices were flowing while completing the album that he thought of dipping his hands into production work by conceptualizing and directing the music video for Getting to Know Each Other Too Well, the album's carrier single. It was none other than 2016 Miss Universe Philippines Maxine Medina who joined him in the music video.
"I just want to make the (music) video fun so sabi ko naman meron akong feel to put together the music video," says Xian. "If you'll watch it, you'll see na kulit-kulitan lang siya na may konting habulan sa Binondo. I'm glad that it's been a successful shoot that we did for one whole day. Everything went well at 'yung pinaka aberya lang ay nung bumuhos ang ulan but at least it was super fun. Ramon Bautista and Mon Confiado were also there."
The Gerard Kenny revival, Xian added, became one of his favorites after hearing Ariel Rivera's version in 2011. Getting to Know Each Other Too Well gives him nothing but good vibes every time he listens to it. "I like how Ariel put emotion into it."
That's why in Key of X, Xian made it a point to include songs that are feel-good and at the same time, appealing to him until now. He selected the OPM classic Wala Na Bang Pag-Ibig, composed by Vehnee Saturno and popularized by Jaya.
"Dito sa album na ito ako pinaka hands-on. I suggested (to Star Music) if it's okay for me to choose five songs that are a mix of something for everyone. I picked songs that I grew up with that until now I get to listen to and many can relate to the songs kaya nandyan 'yung Honey, My Love So Sweet (of April Boy Regino)."
Since everyone knows that April Boy tunes click with the masses, did Xian intend to make an album that caters to the listening pleasure of all types of music aficionados?
"These are songs that became hits when I was young so lahat ng kanta kinalakihan ko. We chose Honey, My Love So Sweet because April Boy is one of my idols. I remember copying his every move when I was a child, and there was a spot in my concert that was meant for April Boy. I was also throwing out caps to the audience (laughs)."
He, too, couldn't deny how admirable April Boy moved on stage during concerts and the natural connection he had with his audience. Xian wished to make people feel the same on his shows because "April Boy has this vibe of allowing everyone to enjoy na parang he's telling everyone that we are here together for fun. Meron siyang ganung magic."
Star Music's audio content head Jonathan Manalo says their main consideration is to make the album relatable to listeners. Its jukebox sound had been given a new treatment but with its feel-good vibe retained.
"When you listen to Xian's version, you wouldn't believe that it was an April Boy (hit) and then, you will know our intention," Jonathan says.
Xian is proud to share that they were meticulous in the arrangement of every musical piece. He and album producer Kiko Salazar worked on the recording process with passion and dedication especially on songs that speak of love.
"We included songs that are relatable like those that have hugot (lines) and at the same time, original ones that are equally relatable. Actually, Xian contributed to the lyrics of Manhid," shares Jonathan. The other original song in the lineup is Download composed by Dingdong Avanzado.
Asked to assess his being a singer now after having had a concert recently and three albums to his credit, Xian stressed that he still has a lot to learn. He is never shy to ask the more established performers and people who are into the music industry for tips, saying, "I always ask them for feedback on my performance and how to engage the audience more."
And while Xian appreciates the positive remarks on his vocal talent, he doesn't frown on constructive criticisms as they push him to do better and constantly improve himself.
"We always want the best in everything that we do kumbaga we are on our toes all the time kaya wala tayong dapat gawin kundi talaga mag-pursige."
(Xian is now on an album tour that kicked off last Sept. 29 at Vista Mall in Bataan.)