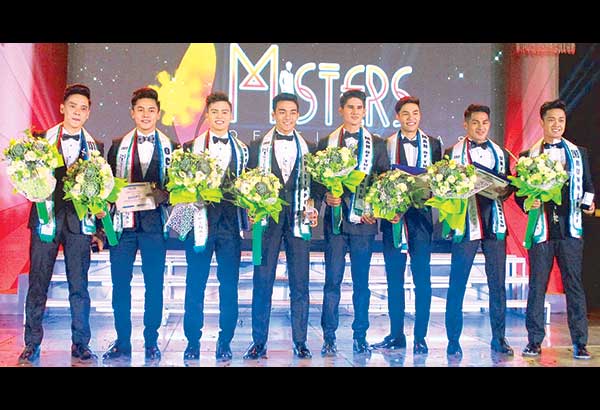 6 winners named in the 2017 Misters of Filipinas contest
MANILA, Philippines — Proclaimed recently were the 2017 Misters of Filipinas winners and court, from left: Jonathan Maniquis of San Jose del Monte, Bulacan (first runner-up); Carlo Pasion of Laoag City (Misters of Filipinas-Ocean); Yves Campos of Filipino Community of Hawaii (Misters of Filipinas-Supranational); Raven Renz Lansangan of Mabalacat, Pampanga (Misters of Filipinas-International); Clint Karklins Peralta of Camarines Sur (Misters of Filipinas-Man of the World); Rubi Kust of Filipino Community of Germany (Misters of Filipinas-Man of the Year); Ion Perez of Capas, Tarlac (Misters of Filipinas - Universe Tourism); and John Joseph Hipolito of Filipino Community of Italy (second runner-up).
The six titleholders will represent the country in global pageants: Pasion in Taiwan; Campos in Poland; Peralta and Kust in Indonesia; and Peralta in Manila. They all received cash prizes and sponsors' gift packages including a three-day/two-night all-expense-paid trip to Davao. Peralta and Lansangan pocketed P150,000 and P100,000, respectively; while the other four titlists received P50,000 each; and runners-up P25,000 (first) and P20,000 (second).
The pageant was organized by the PEPPS Foundation, Inc. headed by Carlo Morris Galang, Jhune Salud and Richard Montoya.
— Text & photo by