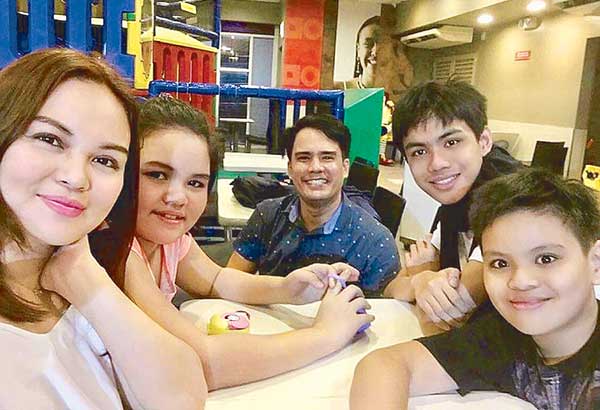 New Generation Heroes star Jao Mapa (center) with his wife Cecil and their children Ben, Caleb and Stacey
Jao's heroes are right at home
MANILA, Philippines — Jao Mapa need not look far to pinpoint people who inspire him to become a better person. His heroes are right at home.
"My heroes are my wife (Cecil) and children (Ben, 15, Caleb, 12 and Stacey, 11)," the devoted family man says minutes before the premiere showing of his new advocacy film, New Generation Heroes, now showing in cinemas nationwide.
Jao tones down his voice when his wife reminds him that he's getting too high-strung at home. He takes the children to school.
Most of all, he watches what he says and does because he knows the children are observing him.
"I'm their role model," he says, throwing a glance at his family as they were having dinner a nearby table. "I have to change to influence them for the better."
Jao admits he can be strict with his children because he wants them to grow up upright and disciplined.
But he'll gladly spoil them with his time. Jao adjusts his schedule around that of his children.
He finished having dinner with his wife and children before agreeing to this exclusive interview.
The professional painter only picks up his brushes and faces the easel in his home-based studio when the children are in school.
Jao's brood exerts a big influence in their dad's paintings. Jao himself painted a portrait of Stacey, his only daughter. He loves including faces of children in his paintings, the most recent of which was exhibited at Fishermall, Quezon City.
"Enrico Santos (ABS-CBN VP for New Media) is helping me exhibit my paintings at the ELJ Building (along Mother Ignacia St., Quezon City) for the whole month of November," Jao smiles.
His list of clients — or people who commission him to paint for them — is growing, especially when Jao joined the group of Angono artists.
But acting remains his bread and butter. Gener, Jao's character in New Generation Heroes, is inspired by CNN Hero of the Year Efren Peñaflorida, who solicits books, places them in his wooden cart and distributes them to poor children.
Jao admits he accepted the role offered to him at the spur of the moment because he admires Gener's selflessness.
"He doesn't do things for money. He just wants to give children a good education," explains Jao.
He's proud and happy New Generation Heroes (which also stars Anita Linda, Aiko Melendez and Joyce Penas) is the first-ever film of his the children are seeing.
"It's feel-good and not as heavy as the cenaculo (Lenten play on Christ's passion), which Ben watched when he was 10, and Caleb, when he was five or six," explains Jao.
The amused father recalls how scared his children were when they saw his face made up to look like Jesus Christ — all bloodied and suffering.
Ben cried and hugged his father tight after the street play toured the city of San Juan.
"I really looked scary. And the children reacted out of innocence," chuckles Jao.
He feels blessed at how his work allows him to blend the personal with the professional.
Jao can take the entire family with him to see the fruits of his labor.
"That's one of the perks of the job," he points out.
The children not only grow in knowledge and appreciation for the arts. They (and their parents) also have more things to discuss and share with one another at the end of the day.
It's something Jao won't pass up for anything else in the world.