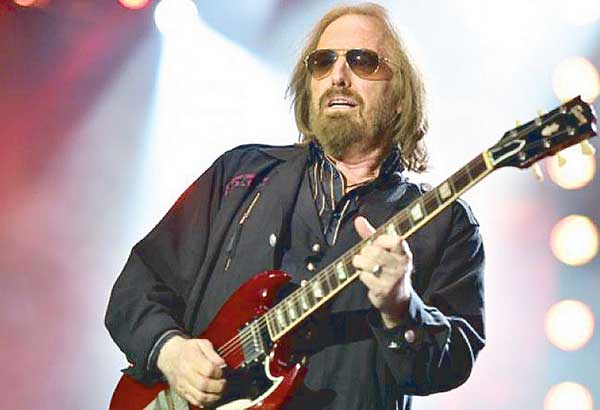 Legendary rocker Tom Petty succumbed to a heart attack at the UCLA Medical Center in Los Angeles last Oct. 2. He was 66. —AFP photo
Legendary rocker Tom Petty succumbed to a heart attack at the UCLA Medical Center in Los Angeles last Oct. 2. He was found unresponsive in his home in Malibu early in the morning and brought to the hospital where doctors put him on life support and made efforts to revive him. He was pronounced dead at eight o'clock in the evening surrounded by family and friends. He was 66 years old and known as one of the nicest guys around, a simple down-to-earth gentleman.
The Gainesville, Florida-born Petty was also one of music's most durable stars. In fact, a week before his demise, he played the final stop in the three-month 40th anniversary tour of his band Tom Petty and The Heartbreakers. This last gig was a sold-out, three-night series at the Hollywood Bowl. At its end, the tour had performed before over 600,000 people and grossed over $60M in gate revenue. Petty died the way he had been these past four decades, a rock star.
Known for his long blond hair, gaunt countenance and crooked grin, Petty was a poor kid constantly beaten by his alcoholic father and bullied in school. But after watching Elvis and the Beatles, he felt something good about rock 'n roll and he was sure he would become a successful musician. He was right. Tom Petty and The Heartbreakers debuted a hit with Breakdown in 1977 and Petty just kept making more of those over the years. Although he had battles with depression and heroin addiction, he did this whether he was the solo artist, with the superstar group The Traveling Wilburys or with the always reliable Heartbreakers.
Breakdown was followed by many more like I Need To Know, Listen To Her Heart, Here Comes My Girl, Don't Do Me Like That and the group's biggest hits American Girl and Refugee. His occasional solo stints reaped songs like Free Fallin', I Won't Back Down, Runnin Down A Dream, You Don't Know How It Feels, Stop Draggin' My Heart Around, duet with Stevie Nicks, You Wreck Me, A Higher Place and It's Good To Be King.
Petty's music rocked hard but had an easy down home feel thanks to his nasal, conversational singing style. He was also an excellent lyricist and told stories about struggling youth and winning against great odds. This combined with his innate flair for melody resulted in songs that many found easy to relate to. Truth to tell, Petty created hits with every album he released these past 40 years. His last recorded album, Hypnotic Eye, from three years ago made No. 1 in the charts.
The most stellar period of his career though was when he was invited to join the all-star line-up of The Traveling Wilburys. In this band, Bob Dylan, Roy Orbison, George Harrison, Jeff Lynne of the Electric Light Orchestra and Petty assumed the identities of their fictitious creations, the Wilbury Brothers. Then they created music to match. As sons of Charles Truscott Wilbury Sr., they were Nelson Wilbury (Harrison), Otis Wilbury (Lynne), Lefty Wilbury (Orbison), Lucky Wilbury (Dylan) and Charles Wilbury Jr. (Petty).
I can just imagine how much fun these guys had pretending to be somebody else and doing what they want with the music. The Wilburys were able to record two full albums that included the singles Handle With Care, End Of The Line, Nobody's Child and She's My Baby. These were reissued in one, now much-prized greatest hits package, The Traveling Wilburys Collection, 10 years ago. All these releases are Platinum sellers. The first self-titled album won the Grammy for Best Rock Recording by a Duo or a Group. There were plans for a tour but this never happened.
I enjoyed listening to the country, folksy rock music of the Wilburys. It is a sad thought that as of now there are only two remaining members of the band, Dylan and Lynne. But death happens and Petty was aware of this. Read what he wrote for his song Mary Jane's Last Dance:
"Honey put on that party dress/ buy me a drink/ sing me a song/ take me as I come/ cause I can't stay long."
Rest in peace, Tom Petty.