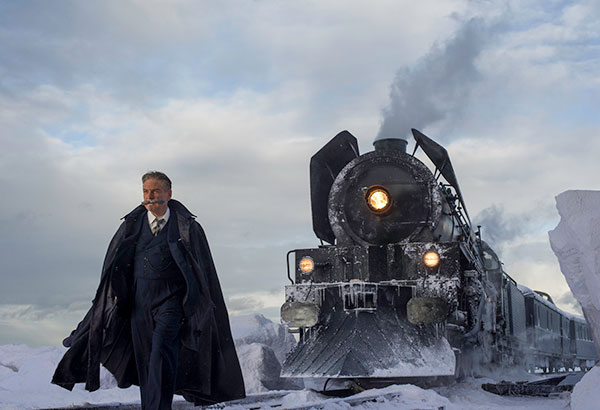 "Murder on the Orient Express" opened in cinemas last Nov. 29, 2017. 20th Century Fox/Released
Review: 'Murder on the Orient Express' gets better as Hercules Poirot steps on the case
MANILA, Philippines— One train, a mysterious death, with 13 suspects, and the world's greatest detective aboard made "Murder on the Orient Express" a mind-boggling movie worth watching.
The film gets better as the legendary and celebrated detective Hercule Poirot played by Kenneth Branagh stepped into the case that took place inside the train and tried to discover the identity of the murderer.
The plot also thickened as thirteen passengers were all treated as a suspect.
"Murder on the Orient Express" is 2017's treasured mystery film.
The lead character of "Murder on the Orient Express" also directed the film which made it even more interesting. The film was adapted from the most infamous crimes in history based on Agatha Christie's classic and most ingenious novel of the same title.
It is also a remake of the 1974 film but its star-studded cast including the biggest names in Hollywood Johnny Depp, Daisy Ridley, Judi Dench, Penélope Cruz, Michelle Pfeiffer, Josh Gad, Derek Jacobi and Willem Dafoe, made it outstanding.
For almost two hours, the movie takes the audience on a train ride from Istanbul to London where Depp's character Rachet, a hideous businessman, got murdered and thirteen strangers were stranded on the train in a snowdrift.
Stuck in the train with all of them being questioned, Poirot struggled as he uncovers the identity of the killer and the motive to the murder.
The screenplay gave justice to Christie's masterpiece and successfully left the viewers in the shoes of Poirot.
Watching "Murder on the Orient Express" will surely leave one figuring out who the killer is until the very end as nothing is as it seems throughout the course of the movie. The actors were all convincing leaving more mystery.
Also visually endearing, the film showcased a quality suspense-drama where loyalty, deception, revenge, and layers of scandals are uncovered.
"Murder on the Orient Express" is from 20th Century Fox and distributed by Warner Bros. It is now on its second week in cinemas nationwide.