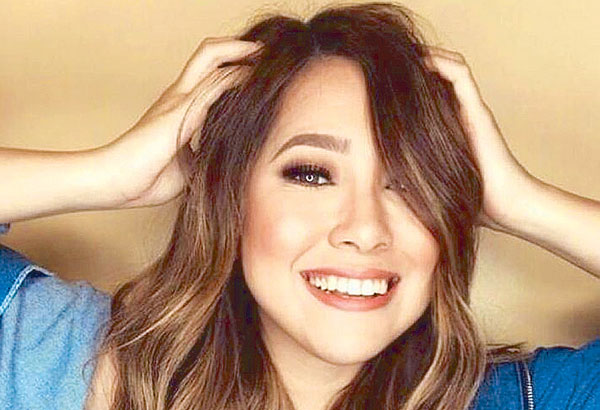 Moira de la Torre is Breakout Star of 2017
Titibo-tibo is this week's number one song on Spotify's Philippines Top 50 chart. It is cute perky number about a young tomboy's confusion about her feelings for a boy composed by Libertine Amistoso. It was the grand prize winner of one million pesos at the recently concluded Himig Handog songwriting contest. It is also the latest hit by today's hot music discovery, the La Salle College of Saint Benilde student Moria de la Torre.
Moira of the sweet and easy singing style, has been around for a few years now doing some gigs and uploading her videos on the net. She was discovered when she joined the first season of The Voice of the Philippines where her rendition of Hallelujah deeply impressed the coaches. However, it was only recently that she started coming up with one big selling song after another.
Truth to tell, Moira has become so suddenly successful that she is believed to be responsible for a new unwritten rule in the local entertainment scene. This one says that if producers want a hit theme song for their movie releases or TV soaps, then they should call in Moira to do the vocals for their soundtracks.
This all started when Moira's song Malaya was used as the background for a quiet but emotional scene in the motion picture Camp Sawi that starred Sam Milby and Bela Padilla. The bittersweet tune, performed by Moira with a voice so full of pain, perfectly fitted the film's camp for the broken hearted plot. And since there are a lot of broken-hearted's hereabouts, I believe that they all gravitated towards Malaya and have been listening to the song during their sad introspective moments again and again.
In the wake of the success of Malaya came Moira's cover of the Moonstar 88 oldie but goodie, Torete, for the romantic film Love You To The Stars And Back. It also became a hit. This was later followed by Saglit from the soundtrack of the TV series The Better Half. And still one more, Sundo, a revival of the big hit by the band Imago that comes from another series, The Good Son.
Moira did not sing the theme for the blockbuster Kita Kita that starred Alessandra di Rossi and Empoy. Two Less Lonely People In The World a big hit from the 80s by the famous group Air Supply was used. But that did not stop Moira from coming up with her idea for a Kita Kita theme. The song is Kita Na Kita which she does as a duet with Jason Hernandez.
As of this writing Moira has four songs in the Spotify hit list and Titibo-tibo is in the number one berth in the streaming site. That means it gets more plays than Havana by Camila Cabello or Ed Sheeran's Perfect daily. It sure feels good having a Filipino artist up there. And I will not be surprised if more Moira songs get added to the list given the many new fans she will surely make with the infectious Titito-tibo. In fact, after seeing this list, I now want to check out on her other songs like Love Me Instead and Home.
The top twenty songs in Spotify's Philippines Top 50 hit list are the following: Titibo-tibo by Moira de la Torre; Havana by Camila Cabello; Perfect by Ed Sheeran; Too Good At Goodbyes by Sam Smith; What Lovers Do by the Maroon 5 featuring SZA; Young Dumb And Broke by Khalid; New Rules by Dua Lipa; Wolves by Selena Gomez; Malaya by Moira de la Torre; Perfect Duet by Ed Sheeran and Beyonce.
Super Far by LANY; I Like Me Better by Lauv; Let Me Go by Hailee Steinfeld with Alesso and Florida Georgia Line; Torete by Moira de la Torre; How Long by Charlie Puth; Let You Down by NF; Meant To Be by Bebe Rexha featuring Florida Georgia Line; I Miss You by Clean Bandit and Julia Michaels; Sundo by Moira de la Torre; and Dusk Till Dawn by ZAYN featuring Zia.
Incidentally, the other winners of Himig Handog 2017 were, Second Best Song, Sampu composed by Raizo Chabeldin and Biv de Vera, performed by Jona; Third Best Song, Extensyon by Michael "Aikee" Aplicador, performed by Iñigo Pascual featuring Aikee. Fourth Best Song, Wow Na Feelings by Karlo Zabala and performed by Janella Salvador; and Tanghaling Tapat by Gabriel Tagadtad and performed by Unit 406.