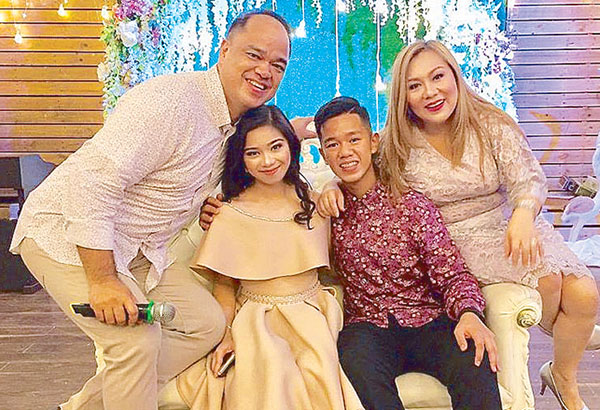 Joreen Bautista with her family (from left): Dad Joey, younger brother Jimuel Martin and Mom Maureen.
Joreen home from UK to celebrate 18th birthday
MANILA, Philippines — Joreen Bautista, the Kim alternate in the United Kingdom tour of Miss Saigon, returned home recently, but only for five days, to celebrate her 18th birthday with her family and closest friends. Little did she know she was in for a big surprise when she was treated to a grand coming out party to really make her debut an unforgettable one.
Joreen's actual birthday was on Dec. 1. But she left the country a week earlier, still with fond memories of how she marked her 18th birthday. What she originally knew was a simple dinner, turned out to be a grand party with more than a hundred guests.
Her family — dad Joey, mom Maureen and younger brother Jimuel — connived with five of Joreen's closest girl friends and classmates from Brightwoods School Educational Venture Academy in Angeles, Pampanga, where Joreen is presently in 12th Grade under the school's home study program.
The minute Joreen and her mom arrived into the venue in the family car, the birthday girl was blindfolded by her classmates and was ushered into a large function room of the Black Angus Steak and Rib House in Angeles, Pampanga, home of Joreen's family. The guests were instructed to shout, "Welcome to Dreamland," as the blasting music of The Heat Is On in Saigon, set the tone for the party.
In an off-shouldered mocha cocktail dress created by her uncle Stephen Victoriano (brother of her mom), Joreen addressed her guests when her blindfold was removed. "I'm back to where my dream started," she tearfully said. "I'm going back to my roots. I didn't know the party was this big. I was told it was just a simple dinner. It was bigger than I expected."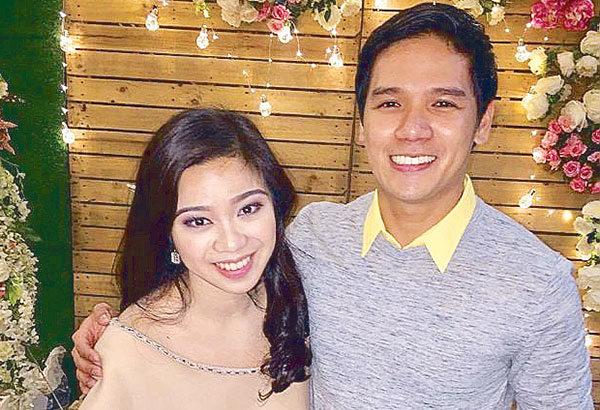 Joreen Bautista with her surprise guest, Gerald Santos, who plays Thuy in the United Kingdom tour of Miss Saigon.
Then Joreen entertained her guests with memorable Disney classics — Part of Your World from The Little Mermaid and Reflection from Mulan. Throughout the night, she also gave her guests a sample of what she has been doing in the UK for the last six months. To a live piano accompaniment, she belted out Kim's heart-wrenching number, I Swear I'd Give My Life for You, for her son, Tam.
In I Still Believe, Joreen did a duet with her mom Maureen, while she rendered Sun and Moon with her dad Joey (short for Joselito). It wasn't hard to conclude that Joreen's singing talent was inherited from both her parents. Meanwhile, her name was a combination of the first names of her parents, while her second name, Moriah, was taken from the Bible.
Her 14-year-old brother, Jimuel Martin, bragged that he "composed a song" for Joreen. Yet, he merely sang "Happy birthday," as his surprise to his sister. Nanny Josephine, who took care of Joreen from the time she was only three months old, was also present. The nanny still works in the Bautista household up to this day.
Joreen's Grade 12 classmates at Brightwoods School entertained the guests at the reception. Her dad said he was thinking of a free band that can perform in the party. Then, the girls popped up and they gamely serenaded the guests. The girls also participated in the traditional 18 Candles, while the boys close to Joreen danced with her in the 18 Roses.
Joreen's mom, Maureen, taught for 17 years at Brightwoods. However, the mom resigned two years ago and opened her Beauty Overflows Salon in Angeles, Pampanga.
Joreen's special guest that night was her Miss Saigon co-star, Gerald Santos, who plays Thuy in the musical. In the party, they rendered I See the Light from Rapunzel. Also in attendance was Joreen's talent manager, David Cosico, of Rank One Productions, who came all the way from Manila just to attend the party.