Purisima richest, Luistro poorest among Aquino Cabinet members
Levi A. So
(philstar.com) - June 22, 2016 - 6:17pm
MANILA, Philippines — Finance Secretary Cesar Purisima is the wealthiest member of President Aquino's Cabinet while Education Secretary Armin Luistro remains the poorest, according to their 2015 statement of assets, liabilities and net worth (SALN) released by the Malacañang Records Office.
Purisima declared a net worth of more than P301 million. Last year, he reported the second biggest net worth next to then Foreign Affairs Secretary Albert del Rosario who reported a 2014 net worth of more than P838 million.
Del Rosario, 76, resigned from his post in February citing health reasons
Luistro was the lone non-millionaire with a net worth of P586,107.11. In his 2014 SALN, Luistro reported a lower net worth at P471,064.46.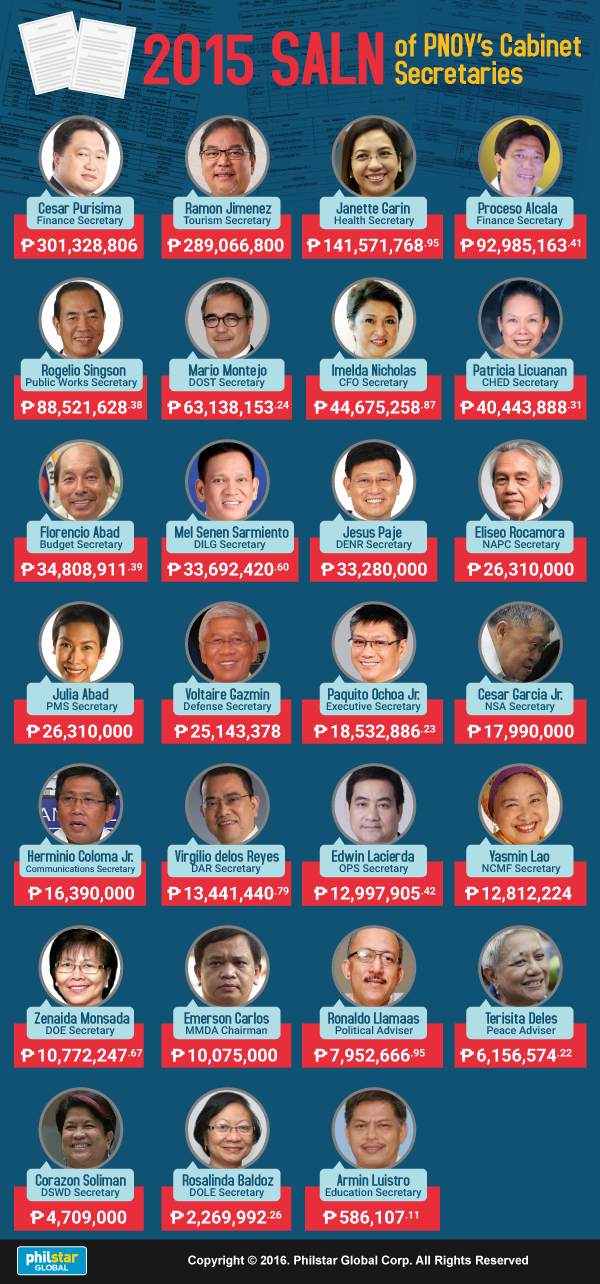 Meanwhile, five Cabinet secretaries have not yet provided copies of their SALNs. These are Foreign Secretary Jose Rene Almendras, Trasportation Secretary Jose Emilio Abaya, acting Justice Secretary Emmanuel Caparas, Trade Secretary Adrian Cristobal Jr. and Socio-economic Planning Secretary Emmanuel Esguerra. — Infographic design by RP Ocampo