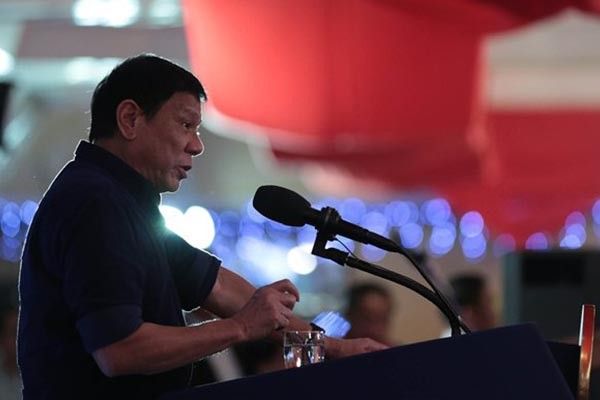 President Rodrigo R. Duterte delivers a speech before the San Beda Law Alumni Association during the Testimonial Dinner Reception at the Kalayaan Hall of Club Filipino in San Juan City, July 14, 2016.
TOTO LOZANO/PPD, File
Duterte gives OFW adviser 20 days to get rid of Moro drug personality
MANILA, Philippines — President Rodrigo Duterte has given Presidential Adviser on Overseas Filipino Workers Abdullah Mamao 20 days to "get rid" of a certain "Bravo" whom he said has established his own government in Mindanao.
Duterte said "Bravo" is getting payoffs from drug pushers and those who are buying illegal drugs.
"At this point in time, I have to deal with the rebellion that is getting worse. The one they call – he's popular to you – this son of a b***h Bravo. He now has a government in Mindanao. And most of (his) constituents really are also Moros," the president said during the San Beda College of Law grand alumni homecoming in Taguig last Saturday.
"If you commit a crime there, you will be jailed. He will arrest you if you are a drug pusher. You just pay him and he will hand you your sentence. They have the Shariah Law," he added, referring to the law governing Muslims.
"If you have money, you buy shabu (methamphetamine) for you cousin, you borrow money. You pay him."
Duterte said wrongdoers pay P10,000 for their crime, half of which goes to Bravo.
"I will decide. I will look for a Maranao. I thought of Dabs Mamao, my presidential adviser. Perhaps I'll give you what, maybe 20 days to get rid of Bravo," the president said.
It was not clear whether Duterte was referring to Commander Bravo, the Moro Islamic Liberation Front (MILF) commander whose real name is Abdullah Macapaar. Duterte did not say why he chose Mamao for the task and how he would "get rid" of Bravo. The president, however, said in his speech that security forces would be involved in his directive.
"One of these days, I said I'll be forced to ask the security forces…unahin mo na 'yan (make him the priority)," Duterte said.
Macapaar was the chief of the 105th MILF Base Command that staged bloody attacks in Lanao in 2008 after the government dropped a territory deal that would have provided the MILF greater powers in parts of Mindanao.
Duterte said Moro leaders, including MILF chairman Murad Ebrahim are against drugs. He said the MILF does not intervene whenever law enforcers conducting anti-drug operations enter its area.
"In fairness to the Moro leaders, Murad and all, hate drugs…So that is really something we should appreciate," the president said.