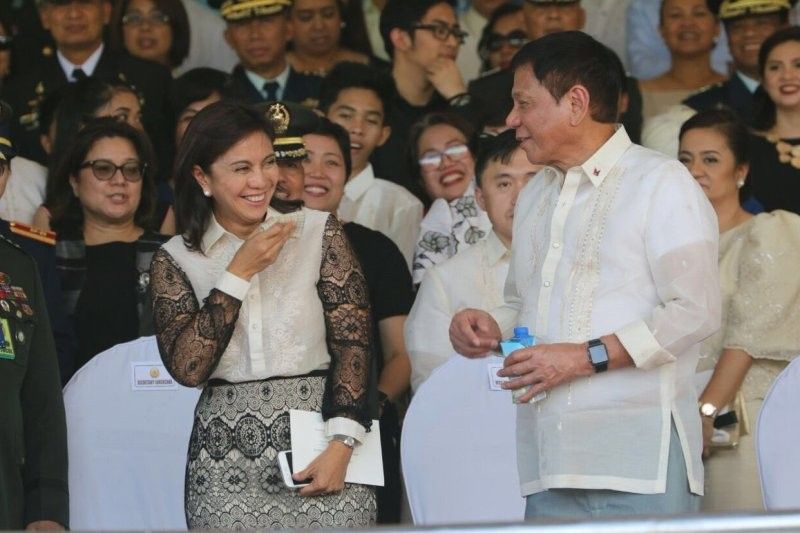 Vice President Leni Robredo obtained a national trust score of 58 percent while President Rodrigo Duterte scored 83 percent.
OVP/Released, File
Poll: Majority of Filipinos trust Duterte, Robredo
MANILA, Philippines — Only President Rodrigo Duterte and Vice President Leni Robredo are the top national government officials with majority trust ratings in the last quarter of 2016, Pulse Asia said.
Pulse Asia's Ulat ng Bayan national survey reported that a huge majority of Filipinos trust Duterte with a score of 83 percent. However, 4 percent said that they had small or no trust for the president while 13 percent were undecided.
Duterte also scored the highest awareness and performance rating with 83 percent.
Meanwhile, a small majority of Filipinos said that the trust for Robredo slightly fell after her resignation from the president's Cabinet.
The vice president's national trust score dropped from 65 percent in September 2016 to 58 percent in December 2016.
About 15 percent of the respondents said that they had little or no trust for Robredo while 27 percent said they were undecided.
Senate President Aquilino "Koko" Pimentel III scored a national trust score of 50 percent while Supreme Court Chief Justice Mara Lourdes Sereno obtained 41 percent.
House Speaker Pantaleon Alvarez scored the lowest among top government officials with 38 percent.
The survey was conducted from December 6 to 11 using face-to-face interviews among 1,200 adults nationwide. The poll has a ± 3 margin of error at the 95 percent confidence level.
Developments such as the decision of the Supreme Court to allow the burial of ousted dictator Ferdinand Marcos at the Libingan ng mga Bayani, Senate investigation into the killing of Albuera Mayor Rolando Espinosa and the Senate panel's recommendation to file charges against self-confessed hitman Edgar Matobato preoccupied Filipinos during the conduct of the interviews of the survey.