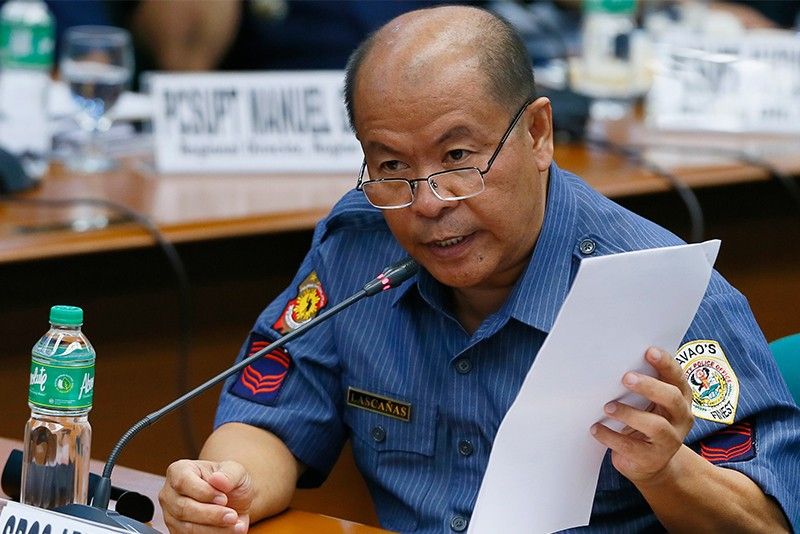 Retiring police officer Arthur Lascañas, who was frequently mentioned by another witness Edgar Matobato allegedly as having an extensive knowledge of the extrajudicial killings in President Rodrigo Duterte's hometown of Davao city, holds some documents during a Senate inquiry in October 2016. Lascañas resurfaced on Monday, Feb. 20, 2017 and admitted involvement in the Davao Death Squad.
AP/File
Davao Death Squad 'leader' resurfaces, retracts denials
Duterte implicated in death squad anew
MANILA, Philippines (UPDATED 12:34 p.m.) — The Free Legal Assistance Group on Monday presented the team leader of the alleged Davao Death Squad (DDS) and linked President Rodrigo Duterte in drug-related killings.
Retiring SPO3 Arthur Lascañas, who is supposed to be in the inner circle of the death squad, claimed that they implemented the orders of Duterte when he was Davao City mayor.
"Totoo po ang existence Davao Death Squad," Lascañas said at a televised press conference in the Senate compound in Pasay City.
The self-proclaimed DDS pioneer that the group was first composed to target alleged drug lord Allan Tancho.
Lascañas named police officers who were the first members of the DDS. The group also commissioned the services of so-called rebel returnees from the New People's Army.
After supposedly killing their first target, the group left a note saying, "'Wag pamarisan. Davao Death Squad" as a threat for other drug offenders.
"Ito po ang umpisa. Binabayaran kami ni Mayor Rodry Duterte. Kadalasan P20,000, minsan P50,000 at depende sa status ng target. Minsan P100,000," Lascañas said.
Lascañas also claimed that he received a monthly allowance of P100,000 from the Office of the Mayor.
Alleged crimes
The retired police officer also said that he was involved in the bombing of the Camamara mosque. He said that Duterte ordered the bombing of mosques in retalitation for the bombing of the Davao Cathedral in 1993.
He also claimed involvement in the killing of broadcaster Jun Pala. He said that Duterte hired him to kill the broadcaster through SPO4 Sonny Buenaventura.
"Sabi ni Sonny galit na galit si Mayor Rody kay Jun Pala dahil sa araw-araw sa atake sa radio. Tinanggap ko po ang kontrata," Lascañas said, adding that the contract was worth P3 million.
Lascañas said that he decided to make a public confession due to his conscience and to signal the end of his "blind obedience and loyalty" to Duterte.
"Mamatay man ako o ipapatay man ako, kuntento na ako na nagawa ko ang promise ko sa Diyos magsagawa ng isang public confession," Lascañas said.
During the Senate Committee on Justice and Human Rights hearings last October 2016, Lascañas denied the existence of the DDS and said that it was only a "media hype."