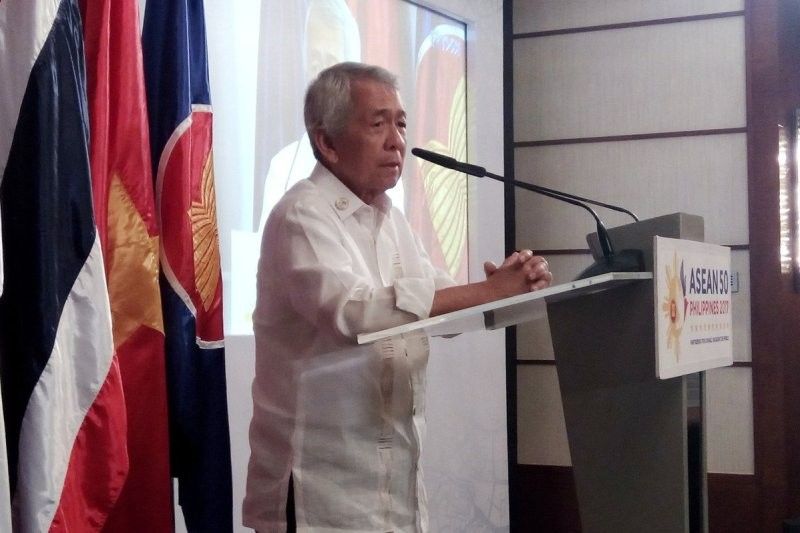 Foreign Affairs Secretary Perfecto Yasay Jr. hold a press conference after the Association of Southeast Asian Nations Foreign Ministers Retreat in Boracay.
DFA/Released
ASEAN ministers call for continuous South China Sea dialogue
MANILA, Philippines — Foreign ministers of the Association of Southeast Asian Nations (ASEAN) noted the importance of sustaining the momentum of dialogue in easing the tensions in the disputed South China Sea, the Philippines' top diplomat said on Tuesday.
Foreign Affairs Secretary Perfecto Yasay Jr. said that a number of his counterparts expressed concern over the possible militarization of some areas in the region during the ASEAN Foreign Ministers' Retreat in Boracay.
"On the South China Sea, a number of ministers expressed concern over recent developments and escalation of activity in the area which may further raise tensions and erode trust and confidence in the region," Yasay said in a televised media briefing.
The foreign ministers affirmed the importance of pursuing peaceful resolution of disputes without resorting to use of force and in accordance with the international law including the United Nations Convention on the Law of the Sea, Yasay said.
Yasay noted that the ministers reaffirmed the need to enhance mutual trust and exercising self-restraint in the conduct of activities in the region to avoid complicating the situation in the region.
"The ministers underscored the importance of the full and effective implementation of the Declaration of Conduct of Parties in the South China Sea or the DOC in its entirety and efforts within the ASEAN-Chinese process to complete a framework of the code of conduct by mid this year," the Foreign Affairs secretary said.
The ministers noted that the code of conduct must be legally binding and must cover areas of how disputes will be resolved for it to be effective.
Yasay added that the ASEAN foreign ministers expressed themselves with respect to the July 12, 2016 ruling of the Permanent Court of Arbitration on the Philippines' protest against China's nine-dash line claim over the disputed waters.
The Foreign Secretary, however, clarified that the Philippines will pursue its bilateral talks with China to resolve the maritime dispute.
The retreat in Boracay was the first gathering of the ASEAN foreign ministers under the Philippines' chairmanship.
During the retreat, the ministers discussed the organization's six priorities: a people-oriented ASEAN, peace and stability, maritime security and cooperation, inclusive innovation-led growth, resiliency, and the ASEAN as a model of regionalism and a global player.