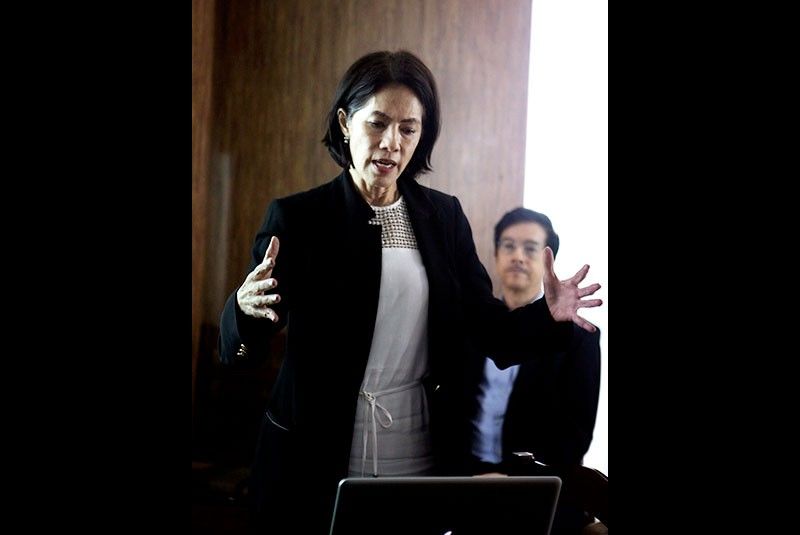 Environment Secretary Gina Lopez talks to The STAR yesterday.
JESSE BUSTOS
'Eco-tourism an alternative to mining'
MANILA, Philippines - The Department of Environment and Natural Resources (DENR) is set to develop mined-out areas into eco-tourism zones that would help rehabilitate the mining sites and provide livelihood to affected communities.
Environment Secretary Gina Lopez said they are now looking at areas that have big potential for becoming eco-tourism sites, consulting with community members on the transition.
"In fact, we already identified 13 towns in Dinagat and Surigao that can be developed as such. We call this 'mine sites revegetation'," Lopez said during a discussion with The STAR editors and reporters yesterday.
DENR Undersecretary Philip Camara said the area would be treated as one eco-tourism site, just like what is being done in Palawan, which has many tourist destinations.
He said it is more beneficial to divert the sites' orientation because eco-tourism gives better quality jobs.
This way, he added, 95 percent of the income will go to the affected communities as opposed to the mining business where the bulk of profits goes to investors.
"And then it flows into health and wellness products because of the biodiversity in the areas. This is a process of mitigating the impact of the decisions the government or the DENR is making," he added.
Aside from community discussions, the department is now consulting scientists on what can be harvested from a rainforest.
"Rehabilitation or re-vegetation stimulates a green economy. For every 100 hectares, it will create 1,000 livelihoods. For example, we can have agriculture wastes converted into biochar as one form of livelihood," Camara said.
The DENR, he added, is now talking with the Departments of Labor and Employment and of Social Welfare and Development to provide jobs or livelihood incentives, like an emergency employment program, for those affected by the order to close some mining firms in the country.
Lopez said the DENR can also help mining firms in using the Social Development and Management Program (SDMP) fund so it would benefit more people, adding that some communities were able to make a P1-million capital grow to P30 million in just one year.
Lopez stressed that she doesn't just issue closure orders for erring mining firms, but also looks at plans to invest in the area and help residents become productive.
The DENR earlier ordered the closure of 23 mining companies and the suspension of five others. At least 13 mining firms passed the audit.
Lopez said the affected firms could still appeal the decision before the Office of the President. – With Louise Maureen Simeon, Catherine Talavera