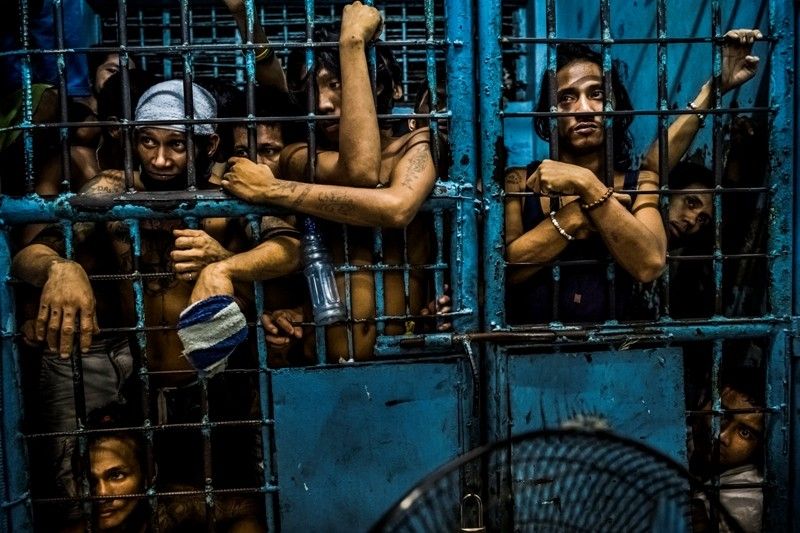 In this image released Monday Feb. 13, 2017, by World Press Photo titled "They Are Slaughtering Us Like Animals" by photographer Daniel Berehulak for The New York Times, which won first prize in the General News, Stories, category of the World Press Photo contest shows inmates watching as drug suspects are processed inside a police station in Manila, Philippines.
Daniel Berehulak for The New York Times/World Press Photo via AP
Report: Patterns in drug killings suggest planning, police involvement
MANILA, Philippines — Rogue officers or vigilantes responsible for massive killings of drug offenders did not operate separately from the authorities, an international human rights group said.
In its 117-page report "License to Kill: Philippine Police Killings in Duterte's 'War on Drugs,'" New York-based Human Rights Watch said that the Philippine National Police has repeatedly carried out extrajudicial killings of drug suspects and then claimed self-defense.
The HRW documented 24 incidents that resulted in 32 deaths that shared similarities as reported in the media.
"The cases investigated in this report suggest that police involvement in the killings of drug suspects extends far beyond the officially acknowledged cases of police killings in 'buy-bust' operations," the report read.
The government has repeatedly denied that there are state-sanctioned killings in the Philippines. It said that around 2,500 of the deaths happened in legitimate police operations. The rest have been blamed on vigilantes and drug syndicates cleansing their ranks.
But, HRW said, similar modus operandi in the killings of drug offenders shows planning and coordination by the police and local civilian officials.
"Furthermore, the government's failure to arrest - let alone prosecute - a single police officer for their role in any of the 'war-on-drugs' killings that Duterte has encouraged and instigated sends a message that those involved need not fear being held to account, and that future killings can be carried out with impunity," the HRW said.
'Bottom of the drug chain'
The report noted that most killings occurred in impoverished urban areas, particularly in Metro Manila and in other cities.
Those who have been killed mostly have irregular work or have no work at all.
"In many of the cases, family members acknowledged that their relative was a drug user - typically of shabu, a methamphetamine - or a dealer, or used to be one. But none of the cases investigated fit the category of big-time drug lords - they were people at the bottom of the drug chain," the report read.
A targeted individual usually receives a visit from a barangay official informing them that they are on a so-called drug watch list. This causes them to law low or turn themselves in to the police.
Witness interviews by the HRW said that the assailants, working in groups, would wear civilian clothes and shield their faces while carrying handguns.
"There typically would be banging on doors and barging into rooms, but the assailants would not identify themselves nor provide warrants," the HRW said.
Family members reportedly heard beatings and their loved ones begging for their lives.
"The shootings could happen immediately, behind closed doors or on the street, or the gunmen might take the suspect away, where minutes later shots would ring out and local residents would find the body, often with hands tied or the head wrapped in plastic," the report read.
Residents said that they saw uniformed police securing the perimeter of the incident and crime scene investigators would arrive within minutes.
HRW noted that accounts provided by relatives they interviewed were very similar to each other.
After being placed under arrest, the suspects allegedly pulled out a weapon and attempted to shoot the police. The suspects, however, end up being killed while none of the arresting officers are harmed.
The sole exception in cases documented, HRW said, is the case in which an officer had been allegedly shot in the leg. The police would then find shabu on or near the victim's corpse.
As of late January, 35 police officers and three Armed Forces personnel have been killed in anti-drug operations. Security forces have also recorded 87 police personnel wounded in operations while eight from the Armed Forces of the Philippines have been recorded wounded.
"In several cases we investigated, the police dismissed allegations of involvement and instead classified such killings as 'found bodies' or 'deaths under investigation' when only hours before the suspects had been in police custody. Such cases call into question government assertions that the majority of killings have been committed by vigilantes 'fed up with the current justice system' or rival drug gangs," the HRW said.
London-based Amnesty International in February released its annual report on the state of human rights, blaming President Rodrigo Duterte and other world leaders for contributing to a global pushback against human rights.
Amnesty noted that Duterte is one example of an official blaming perceived social problems to justify repressive government actions.
The human rights watchdog noted that, as of that report, more than 6,000 alleged drug offenders had been killed by authorities and supposed vigilantes.