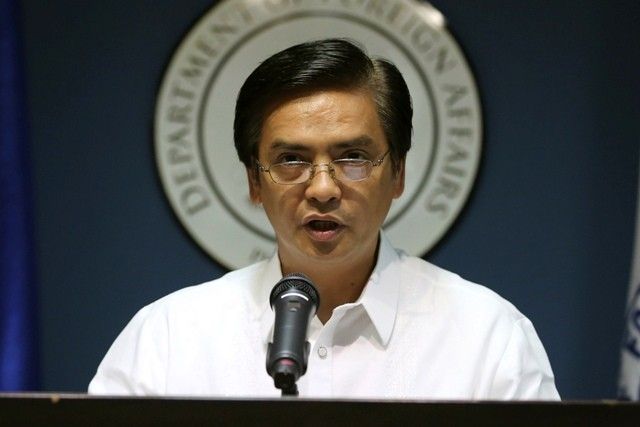 Foreign affiars undersecretary Charles Jose denied that the DFA had any knowledge about the research agreement allowing Chinese vessels in Benham Rise.
AP/Aaron Favila, File
DFA rebuffs Palace, denies knowledge of Benham deal
MANILA, Philippines — The Department of Foreign Affairs (DFA) admitted on Friday that it was not aware of any research agreement President Rodrigo Duterte may have entered into with China, essentially denying Malacañang's claim that it had informed the foreign affairs and defense agencies.
DFA spokesperson Charles Jose said the department was not aware of any permit granted to China allowing vessels in Benham Rise. The area is an expansive underwater land mass off the coast northeastern Philippines believed to be holding large deposits of gas and other natural resources.
"I would like to repeat what acting (Foreign Affairs) Secretary Enrique Manalo said yesterday in his press conference that we are not aware of any agreement that was agreed upon between the Philippines and China with regard to this vessel spotted in Benham Rise," he said in an interview with ANC.
When asked to clarify if they didn't know that the president gave permission or only its details, he said: "We are not aware of the agreement mentioned by the president."
On Monday, however, Duterte revealed that China had given the Philippine government advance notice that its ships would be in waters in Benham Rise.
"We previously agreed that they can, research ship naman 'yung ano…we do not want to pick a fight," he said.
His spokesperson, Ernesto Abella, also insisted that the DFA and the DND were informed of the agreement, but may be referring to separate incidents. "They were apprised. They were simply referring to different situations," Abella said.
But when confronted about Duterte's statement, an evidently surprised Defense Secretary Delfin Lorenzana said on Tuesday: "Sinabi niya 'yun kahapon? Kailan niya 'yun sinabi? Ah hindi ko masasagot 'yan. Hindi ko alam 'yan."
Manalo also said on Thursday that the DFA has "no policy" on the activities of Chinese vessels in Benham. "There are ships through the area exercising freedom of navigation. But the fact that this is within the sovereign rights and jurisdiction of the Philippines any ship would have to get permission from the Philippines if they wish to undertake research."
Binding
The DFA undersecretary said that as head of the executive government any agreement, even an informal one, entered into by the chief executive would bind the country.
As far as he knew, however, China had not sought Philippine permission to explore Benham Rise.
"I am not aware of any request for permission from the Chinese side to explore Benham Rise," Jose said.
Any exploration or incursion into these waters should be made known to the foreign affairs department and seek the permission of the Philippines. Jose said such a request would have to go through the regular process of informing relevant agencies and negotiation.
Jose also emphasized the DFA policy on Benham Rise and said that it was part of the country's economic zone, continental shelf and even extended continental shelf. Because of this, he said, the country enjoys sovereign rights and jurisdiction over the area.
"The Philippines has the sole and exclusive right to explore, exploit, conserve and manage the natural resources that could be found in Benham Rise both mineral or in gas deposits," Jose said.
"Our position is very clear with regard to Benham Rise we have sovereign rights and jurisdiction and we are the only country that can explore and exploit the natural resources that can be found therein. So other countries should get our permission should they want to survey the resources there. That's very clear. And on the part of the DFA we'll do our part to make sure our rights are protected and are asserted with regard to Benham Rights," he added.
Jose also expressed his belief that the public deserved to know what was going on inside the government including our relations with other countries.
— with video by Patricia Lourdes Viray and Efigenio Toledo IV