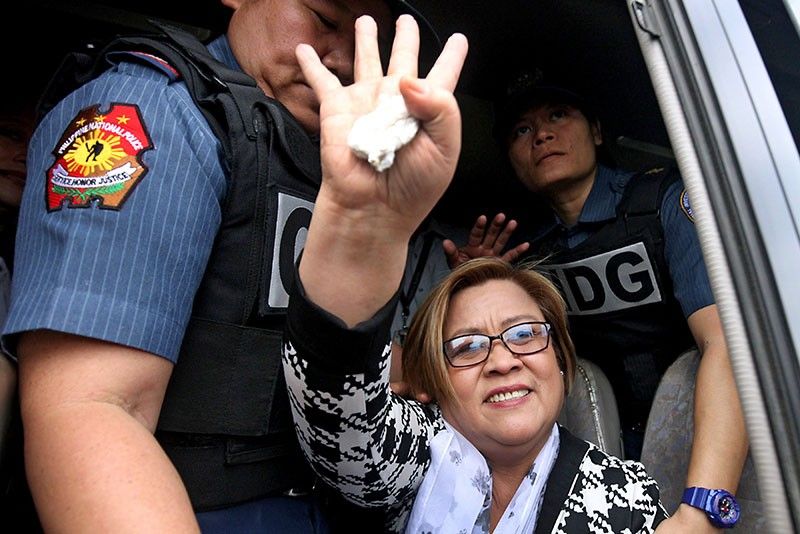 Sen. Leila de Lima is facing drug charges for her alleged involvement in the proliferation of the illegal drug trade at the New Bilibid Prison.
STAR/Michael Varcas, File
De Lima humbled by Time magazine recognition
MANILA, Philippines — Detained Sen. Leila de Lima stressed that international recognition for her cause is important as Time magazine recognized her as one of the 100 most influential people.
"I am deeply humbled for being recognized by Time magazine as an Icon among their 100 Most Influential people in the world," De Lima said in a statement released Friday.
De Lima is one of the 20 "Icons" listed in Time Magazine's list of 100 most influential people.
Former US Ambassador to the United Nations Samantha Power wrote the article on De Lima, saying that it was disturbing that the senator's cause has not been more embraced.
"And yet, even from prison, she continues to speak out against her President: 'It's not O.K. with me that we have a murderous psychopath occupying the highest post in the land.'" Power said in her article.
In her statement, De Lima lamented that the struggle for human rights and the fight for justice for those who have been victims of President Rodrigo Duterte's drug war are not popular causes at the moment.
The senator further noted that some Filipinos prefer to "huddle up close" to the administration of Duterte, who she described as a "sycophant," to avoid being a victim of political persecution.
"This is why international recognition of what we fight for is important, because even as darkness surrounds us now, the world keeps watch and shines a light on us, until the time comes when we can finally bear our own torch once again and chase away the monster that enslaves us in evil," De Lima said.
Duterte was also included on the list along with 23 other world leaders. Former Colombian President Cesar Gaviria, however, criticized the president in his write-up.
"Since Duterte's inauguration last year, some 7,000 people have been killed. His ironfisted strategy alarms governments, human-rights organizations and faith-based groups while winning high approval ratings at home," Gaviria said.
Duterte claimed the top spot in the magazine's 100 most influential people poll for 2017. He garnered 5 percent of "yes" votes in the online poll which ran from March to April.