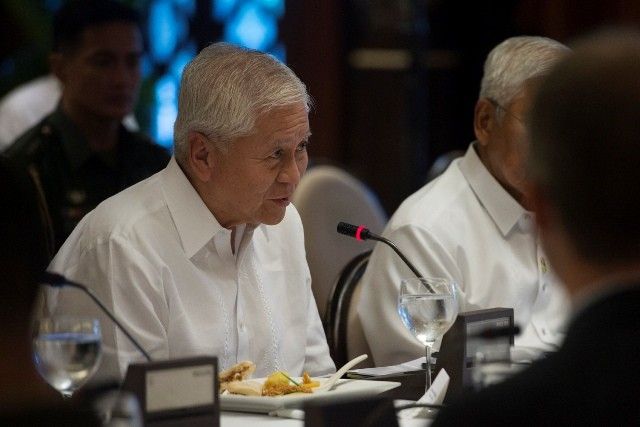 "My hope is that our ASEAN neighbors share the pride of what a Member State like ours can accomplish, and see in the ruling an opportunity for all of the Southeast Asian region," former Foreign Affairs Secretary Albert Del Rosario said.
US DoD photo/File
Del Rosario urges gov't: Don't wait for 'better time' to assert arbitral award
MANILA, Philippines — The Philippines cannot wait for a supposed appropriate time in asserting the ruling of a United Nations-backed arbitral tribunal over the South China Sea, former Foreign Affairs Secretary Albert del Rosario said.
"Beyond island-building and militarization, if our fishermen cannot enter Scarborough Shoal, if we cannot develop new energy resources, if the marine commons is irreparably destroyed – and if our own secretary of defense cannot fly over the West Philippine Sea without being challenged – our country must speak out and must work with our neighbors and with our friends for us to stand united in protest," Del Rosario said.
On July 12, 2016, the international arbitral tribunal ruled that China's historic nine-dash line claim over the disputed South China Sea does not have legal basis.
The Duterte administration, however, has decided to set aside the arbitral award for now and decided that the ruling will not be raised with China until an "appropriate time."
Del Rosario, who led the Philippines in filing the arbitration case against China at the international tribunal, said that the ruling should be an integral part of the Code of Conduct framework that is being finalized for the Association of Southeast Asian Nations.
"We cannot wait for a 'better time' to come—we must create that time ourselves lest that opportunity be lost forever," Del Rosario said in a speech during a South China Sea forum organized by Stratbase ADR Institute on Tuesday.
'More than just friendly ties'
The former Foreign Affairs secretary noted that as this year's chair of the ASEAN, the Philippines has an opportunity to ensure that a rules-based order succeeds.
The cooperation with the country's neighbors should go beyond friendly ties, Del Rosario said.
"Moreover, we must not accept the position that China's South China Sea build-up is a fait accompli (something that has happened and can no longer be reversed) that renders us helpless," the former top diplomat said.
Del Rosario recalled that in 2002, ASEAN and China committed to a non-binding agreement over how claimant countries should behave in the South China Sea.
China, however, failed to exercise self-restraint from activities that would escalate disputes in the region, Del Rosario said.
"In 2017, as in 2012, the greatest immediate source of regional uncertainty has been China's unlawful efforts to expand its footprint throughout the South China Sea," Del Rosario said.
The ASEAN should unite in countering China by promoting rule of law and strengthening multilateralism in support if the law, the former secretary added.
"ASEAN and the international community as a whole should utilize the principles in the arbitral ruling to move diplomatic engagement forward," Del Rosario said.
Opportunity for international community
Del Rosario expressed hope that ASEAN countries would see the arbitral ruling as an opportunity for the whole region, given that many countries have expressed support of the arbitration.
"The European Union, the United States, ASEAN members, Japan, Australia and other countries have shared our emphasis on the need to use peaceful means and give due respect for the rule of law," Del Rosario said.
The Group of Seven advanced economies had also reiterated its strong opposition to China's militarization and called for all parties to comply with their obligations under international law.
"Our region cannot promote the rule of law while ignoring the law as it stands," Del Rosario said.