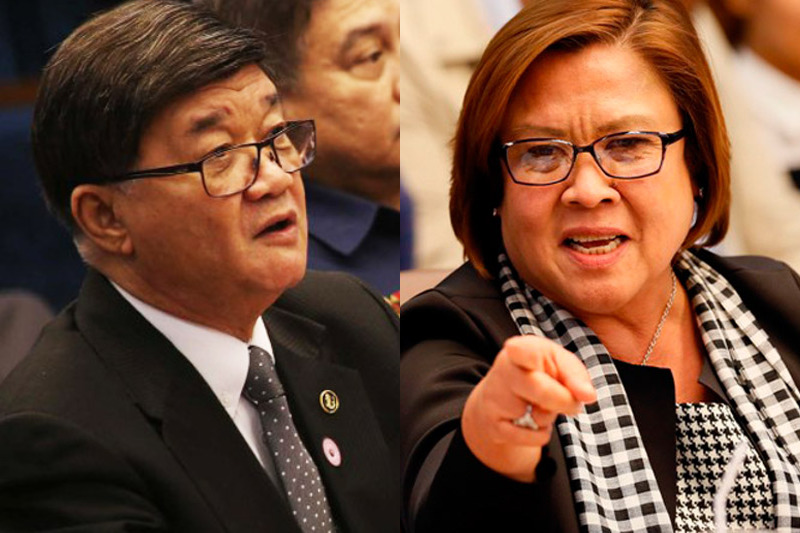 Detained Sen. Leila de Lima mocked Justice Secretary Vitaliano Aguirre II for his failed attempt to drag members of the opposition into the Marawi siege. Philstar.com/File photos
De Lima hits Aguirre over failed photo exposé
(philstar.com) - June 9, 2017 - 3:54am
MANILA, Philippines — As speculation swirls about the ties of the opposition to the Maute group, detained Sen. Leila de Lima mocked Justice Secretary Vitaliano Aguirre II for his failed attempt to drag some of the opposition members into the Marawi siege.
De Lima, who faces criminal complaints for her alleged links to the drug trade inside the national penitentiary Bilibid, released a statement on Thursday calling Aguirre the "administration clown."
"Aguirre's reputation as the clown of this administration has been further solidified with his bungling accusation linking members of the opposition to the Maute siege of Marawi," said De Lima.
"His basis—an outdated 2015 photograph of a gathering completely unrelated to the present context of the Marawi crisis—is as stupid as it is outrageous," she added.
Earlier, Aguirre planned to conduct a probe into Sen. Bam Aquino's visit to Marawi, as well as the supposed connection of Sen. Antonio Trillanes IV and Magdalo party-list Rep. Gary Alejano to the Maute group.
The justice secretary claimed Trillanes and Aquino met with the Lucman and Alonto clans in Marawi City at a resort hotel last May 2 along with Magdalo party-list Rep. Gary Alejano and former presidential adviser on political affairs Ronald Llamas.
He showed a photo of the supposed meeting and said that the group may be involved in a destabilization plot against President Rodrigo Duterte.
The photo was later on discovered to have been taken in 2015, contrary to Aguirre's claim that the meeting happened weeks before the Marawi siege. Aquino, on the other hand, said that he only went to Marawi City for a public event opening of a Go Negosyo Center.
Aguirre later claimed that he had been misquoted and that he did not intend to implicate the two clans in the Marawi crisis. But journalists covering the justice department denied the accusation, saying that they have video and audio recordings of Aguirre's briefing as proof that the official was quoted correctly and in verbatim.
"More than a clown's bungling, Aguirre's latest blunder therefore seems more like a calculated step to hype up the terrorist scare by painting a picture of a malevolent conspiracy behind the Marawi crisis involving prominent members of the opposition," said De Lima.
The former justice secretary said that Aguirre's move is part of the "fake news campaign where the people will no longer be able to determine truth from fiction."
"The truth is whatever's now manipulated by Duterte's cabal and their social media operation," said De Lima. — Kristine Daguno-Bersamina